The Japanese Hayabusa spacecraft has always seemed to have a couple of strikes against it, at least in terms of media coverage. Never much in the spotlight, the ambitious attempt to explore and bring back samples from the asteroid Itokawa has been all but eclipsed by China's recent manned orbital ventures. And Centauri Dreams suspects that's a primary problem: robotic missions don't draw the public eye the way risky manned flights do, even if the scientific payback from the former is often immeasurably greater.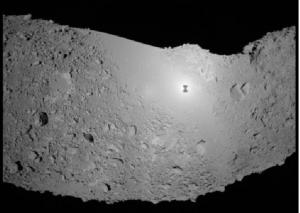 Now Hayabusa is encountering a different set of problems. The Minerva robot was to have landed on Itokawa last week, but disappeared after its release. A lower profile issue has been solar flare damage to the spacecraft's solar panels and continuing problems with its positioning control system. And now we have word of a mission-endangering glitch: Hayabusa failed to touch down on the tiny asteroid when the attempt was made on Sunday. "I don't think it landed," project leader Junichiro Kawaguchi told a news conference, although it's clear Hayabusa came close.
Image: Hayabusa casts a shadow of its own, dramatically backlit by the Sun. Credit: JAXA.
A second attempt will be made this Friday and is vital to the mission's success, as the reason for landing was to fire a metal pellet into the surface to collect material from the asteroid for return to Earth. Let us hope the Friday attempt goes well, for this is a remarkable, pioneering mission. Centauri Dreams celebrates the Japan Aerospace Exploration Agency's work on ion thrusters, those highly fuel-efficient, low thrust engines so suited to deep space exploration. The Hayabusa engines use microwave-ionized xenon gas pushed through a strong magnetic field to propel the craft. As they did with Deep Space 1, the thrusters aboard Hayabusa provided outstanding service. And let us hope that enough data can be reconstructed from the Minerva attempt to teach us valuable lessons on robotics to go along with Hayabusa's already impressive achievements in autonomous navigation.
Perhaps a sucess on Friday will get Hayabusa into the media spotlight. Until then, Centauri Dreams tends to agree with these remarks on the Pausanias weblog:
The Japanese Hayabusa probe, ignored by the world media, is using ion power to travel to an earth-crrossing asteroid, dance around it, and in the next few days, to touch down on its surface, leave a surface probe, blast off some regolith, and then return it to the Australian desert. This should be awesome stuff for a public that lined up around the block to see Armageddon and Deep Impact. But 'nary a peep, and only a one-page garbled write-up in Aviation Week. Maybe instead of using government employees for publicity, JAXA/NASA/ESA/RAKA could get together and hire some Hollywood producers to handle their public relations (Spielberg, Hanks, Lucas should fund it for free, considering their debt to the space program for making the public ready to accept sci-fi cinema). Short public service films in theatres or on cable channels between the programs with the latest utterly awesome pix from around the solar system might go a lot farther than lame press conferences…
For background information and updates, the Hayabusa home page is here.