The Japanese spacecraft Hayabusa evidently managed to land on asteroid Itokawa several days ago after all, according to this from the Japan Aerospace Exploration Agency:
"At the timepoint of Nov. 21, Hayabusa was judged not to have landed on the surface. According to the replayed data, however, it was confirmed that Hayabusa stayed on Itokawa by keeping contact with the surface for about 30 minutes after having softly bounced twice before settling. This can be verified by the data history of LRF and also by attitude control record…"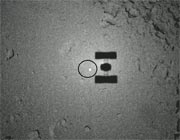 For more, you can read the complete JAXA statement here. The spacecraft is now being maneuvered for a second landing (and surface sampling) attempt. Note the shadow in this photograph, much more clearly visible than in the previous images of Itokawa from Hayabusa. There are people who shrug at this sort of thing, but to Centauri Dreams images like these are breathtaking. They remind us that a human presence has now encountered objects hitherto unexplored, the shape of technology defined on a surface untouched since the formation of the Solar System.
Image: Target marker with signatures (image taken at altitude of 32 meters). Credit: JAXA.