How did a newly formed Earth, supposedly hot and dry, wind up with oceans? Comets have been the leading candidate for the needed delivery mechanism, given their large ice content. But ice from the asteroid belt may make a better fit to Earth's water supply, and the discovery of a new class of comets there may mean that at least some objects in that part of the Solar System have ice at their surfaces.
Asteroids and comets, in other words, may in some cases be more closely related than anyone realized. These conclusions come from work performed by University of Hawaii graduate student Henry Hsieh and professor David Jewitt, who have christened the newly discovered objects 'main-belt comets.' These are comets with asteroid-like orbits; they seem to have formed in the inner Solar System rather than in the frigid reaches of the Kuiper Belt or the Oort Cloud.
The evidence? An object called asteroid 118401 is ejecting dust, just like a comet. And so is another mysterious comet known as 133P/Elst-Pizarro and a third, designated P/2005 U1. The original 'main-belt comet' (i.e., the first discovered) was 133P/Elst-Pizarro, which was found almost a decade ago. Hsieh and Jewitt's work on the other two seems to identify a new class of cometary objects.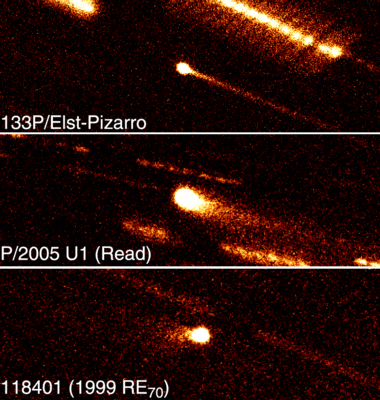 Image (click to enlarge): The three known main-belt comets (at center of each panel). Other objects shown are stars and galaxies smeared by the motion of the telescope while tracking each comet. Credit: H. Hsieh and D. Jewitt (Univ. of Hawaii).
"The discovery of the other main-belt comets shows that 33P/Elst-Pizarro is not alone in the asteroid belt," Jewitt said. "Therefore, it is probably an ordinary (although icy) asteroid, and not a comet from the outer solar system that has somehow had its comet-like orbit transformed into an asteroid-like one. This means that other asteroids could have ice as well."
Centauri Dreams' take: This is provocative work indeed. Perhaps we've made too rigid a distinction between comets, with their elongated orbits and vast temperature swings as they approach the Sun, and asteroids, with their essentially circular orbits and rocky, water-free composition. In adjusting our definitions, we may be on the way to explaining how water gets delivered to rocky, terrestrial worlds as Solar Systems evolve.
But three comets make for a tiny sample; we'll need much more evidence before drawing too firm a conclusion about how these main-belt comets came to be where they are. The Oort Cloud, after all, is believed to be home to comets in the trillions. As Hsieh and Jewitt note, a mission to one of the main-belt comets would tell us much about their ice content.
The paper is Hsieh and Jewitt, "A Population of Comets in the Main Asteroid Belt," with abstract and PDF available here. The work will appear in the April edition of Science. Also see Henry Hsieh's Web page on main-belt comets, which contains links to the original article and news coverage on the story.