The first true interstellar mission may be on the drawing board right now. Yes, Voyager 1 has already crossed the termination shock 94 AU out and is still returning data, but we've never had a mission targeted from day one at interstellar space. Yet that region just beyond the influence of the Sun — the Very Local Interstellar Medium — is crucial; it will tell us much about the interface between the solar wind and deep space. Probing it will create new data on everything from gravitational waves to anomalous forces like those that may be acting on the Pioneer spacecraft, not to mention setting the stage for future missions.
Now dubbed the Innovative Interstellar Explorer, the concept is for a robotic mission beyond the heliopause, and as refined through studies led by Ralph McNutt (Johns Hopkins University Applied Physics Lab) for NASA's Institute for Advanced Concepts, and now through continuing development as a NASA mission study, the IIE would take a 1000-kg payload on the first journey specifically designed to explore interstellar regions.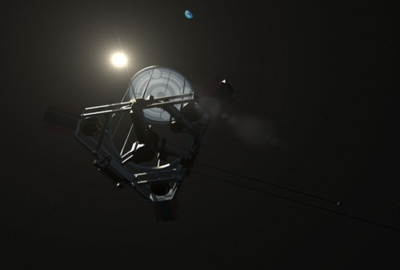 Image: An earlier concept called Realistic Interstellar Explorer, a key step in refining the design for the current mission concept. Credit: NASA/Johns Hopkins University Applied Physics Laboratory.
The genesis of Innovative Interstellar Explorer can be found in a 1976 conference called 'Missions Beyond the Solar System,' held at the Jet Propulsion Laboratory, which discussed the engineering challenges of such a journey. A subsequent JPL project examined nuclear electric propulsion for what was dubbed the Thousand Astronomical Unit (TAU) mission. Later, a precursor to IIE called the Realistic Interstellar Explorer was designed around a powered solar gravity assist and used solar thermal propulsion.
As the mission has evolved, one hope remains: to achieve a flyout time of between 15 and 25 years, representing roughly half the professional lifetime of the scientists and engineers who would build the craft. A set of links on the IIE site provides excellent background. The concept continues to develop in the direction of the practical, creating a mission that can be flown with existing technology.
The problems faced by all who have tackled interstellar mission work are immense: to reach 200 AU in 15 years, for example, requires speeds of 63 kilometers per second, about twice the orbital speed of the Earth (IIE currently targets not 15 years but a more realistic 'as fast as possible' travel time). A powered gravity assist closing near to the Sun presents huge thermal issues and still demands an advanced propulsion system. Nuclear electric propulsion places heavy demands on spacecraft power systems, while solar sails require high performance sails in the area of 400 meters in diameter coupled to small spacecraft. And none of these technologies are ready for a mission of this complexity.
To find a practical solution, the team is now examining radioisotope electric propulsion (REP), using xenon as propellant in an engine that would draw electricity from a radioisotope power source. A Jupiter gravity assist would provide an additional boost. Interestingly, the IIE design would use existing launch hardware and involve no in-space assembly. In other words, this is meant to be a practical mission that requires no revolutionary breakthroughs, one that could be built, if funding can be found, and flown by the next launch window.
That window appears on the missions' Web site, where a countdown clock ticks off the days, hours and seconds to 12 Noon Eastern Daylight time on October 22, 2014. It's a bold digital statement — given NASA's funding woes, we're unlikely to meet such a deadline — but McNutt and team are convinced that the launch day for such a mission will come. Si requiritis futurum nostrum, spectate astra, reads the mission's motto: 'If you seek our future, look to the stars.' That's a future that will arrive whether IIE lifts off in 2014 or 2050, and it represents a commitment to pushing beyond safe boundaries and taking the first tentative steps toward Alpha Centauri and other nearby stars.