Rudolph Meyer's work on solar arrays and ion propulsion elicited quite a few e-mails asking for further information. I don't yet have the Acta Astronautica paper that spells out the details — nor do I know just how detailed Meyer gets — but I'll try to provide some answers soon. In the interim, I was startled to realize that Geoffrey Landis, who commented on the Meyer design for New Scientist, had actually gone into this concept at some length as long ago as 1989.
In fact, Landis' key paper "Optics and Materials Considerations for a Laser-propelled Lightsail" (available here) was presented at the 40th International Astronautical Federation Congress in that year. Landis speculated on a lightweight sail that focuses power on a small solar array, noting that a basic problem with laser-propelled lightsails is their low energy efficiency:
The energy efficiency may be greatly improved, at the cost of a reduction in specific impulse, by combining the laser sail with a photovoltaic powered electric (ion) engine. Ion engines in principle have no physical limits on the specific impulse, although extremely high specific inpulses require proportionately high energy consumption. Such a laser-powered rocket would have the ability to decelerate at the target star (with some loss of efficiency), and could also greatly decrease the amount of power required from the laser.
Landis then presents a schematic for a rocket like this, with solar array mounted so that the sail acts as a mirror to focus light on it. A little later in the paragraph, he presents a related idea (internal references deleted):
An alternate version would be to form thin-film solar cells directly on the sail. The specific impulse of such a system can be extremely high as long as the mass flow rate of reaction mass is low; but even with extremely low mass flow rates the energy efficiency of the sail can be greatly improved…
Landis examined the idea again at an American Physical Society meeting and presented further thoughts at the legendary "Interstellar Robotic Probes: Are We Ready?" conference hosted by Ed Belbruno in 1994. At the latter, he discussed a "…laser-powered rocket, where the laser is converted into electrical energy, which is used to power an electric propulsion system." Here's the conceptual figure Landis used then, with his original caption: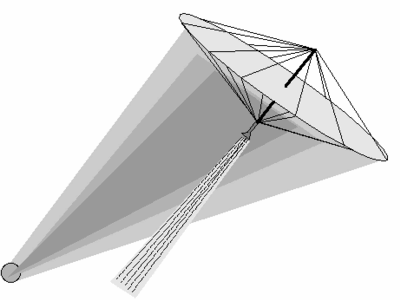 Image: Fixed laser, at left, illuminates a light-weight solar array, shown here as a centrifugally-tensioned thin-film membrane supported by tension wires. Power from the array is fed to an ion engine.
Clearly, the combination of solar sail and electric propulsion has been around for a while. Indeed, one of the fascinations of interstellar propulsion studies is the sheer range of brainstorming they generate. Landis' papers drew on Robert Forward's ideas about laser-propelled lightsails, and it was Landis who did key early work on refining our ideas about the best sail materials for that job. How Meyer's work advances our knowledge of lightweight arrays and their potential uses is something we'll talk about again once more facts become available.