Centauri Dreams is told that one reason the name Pluto was chosen for the ninth planet in our Solar System is that the first two letters formed the initials of Percival Lowell. The Boston-born astronomer became world famous for his studies of the so-called 'canals' on Mars, but he devoted the last years of his life to the search for Planet X, a world he was convinced must exist. Dying in 1916, Lowell wasn't around to celebrate Clyde Tombaugh's discovery of Pluto some fourteen years later.
In my mind, names play a role not dissimilar from the collapse of the wave function in some versions of quantum mechanics. Perform an observation and from a superposition of states you get a hard data-point. In a similar way, give something a name (see Bradbury's "The Naming of Names") and you make a vaguely understood object or place concrete. We'll get more concrete still with Pluto and its various moons when the New Horizons mission gets there and we start naming craters and peaks.
But we didn't have to wait for New Horizons to name the two small Plutonian moons discovered last year. The International Astronomical Union has chosen the name Nyx for the inner satellite, an homage to the mother of Charon, Pluto's largest moon. The outer moon is now named Hydra, a monster whose nine heads remind us of Pluto's place within our system. And exercising just as much care as was originally applied to the naming of Pluto, the first letters of Nyx and Hydra honor the initials of New Horizons itself.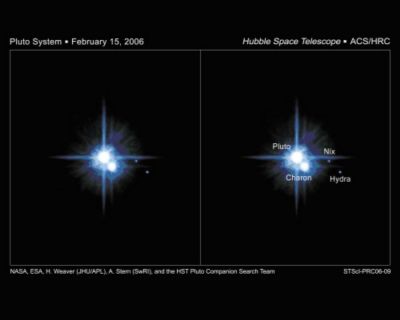 Image: Hydra and Nix, roughly 5,000 times fainter than Pluto, are about two to three times as far from Pluto as its large moon, Charon. The brighter, outer small satellite, Hydra, was provisionally named S/2005 P 1, and the fainter, inner small satellite, Nix, was provisionally named S/2005 P 2. Credit: NASA/STScI.
"We're very pleased with the decision of the IAU," says co-leader of the discovery team and New Horizons principal investigator Dr. Alan Stern of Southwest Research Institute. "You're going to be hearing a lot more about Nix and Hydra in coming years — astronomers are already applying for telescope time to study their orbits and physical properties. And when New Horizons flies by Pluto in the summer of 2015, each will be mapped in detail."
Are more moons waiting for New Horizons to find? We'll know by 2015, some 99 years after the death of Percival Lowell. Astronomy demands patience and an exquisite eye for detail, as Lowell surely knew from his long nights on the job, and it probably wouldn't have surprised him that it would take almost half a century after the discovery of Pluto to find Charon, and another 27 years to locate Nyx and Hydra. The near resonant orbits of the latter two satellites in the same plane as Charon indicate a common origin for all three moons and back the notion that they were formed in an enormous impact.