The Spitzer Space Telescope has peered into the Orion nebula with striking results: nearly 2300 planet-forming disks in the overall Orion cloud complex, a star-forming region some 1450 light years from Earth. This is where infrared truly shines, for such disks are too small to be seen with visible-light telescopes. But Spitzer is made to order for picking up the infrared signature of warm dust, giving us an unprecedented look at solar system formation in the aggregate. The image below gives a glimpse, but be sure to click to enlarge the photograph for a bit more detail.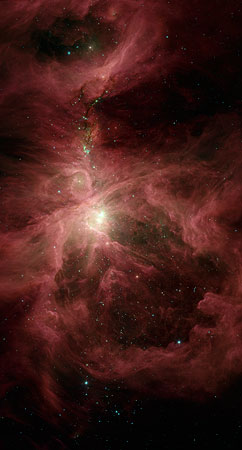 Thomas Megeath (University of Toledo, OH) likens the research to a census of potential solar systems, saying "…we want to know how many are born in the cities, how many in small towns, and how many out in the countryside." Megeath and colleagues discovered that 60 percent of the disk-bearing stars in the Orion cloud complex are found in clusters of hundreds of stars, while 15 percent exist in much smaller groupings, with a surprisingly high 25 percent in relative isolation. That may force an adjustment to earlier theories that most young stars would be found in relatively crowded locales.
Image: A Spitzer Space Telescope view of the Orion nebula, our closest massive star-making factory. The nebula is close enough to appear to the naked eye as a fuzzy star in the sword of the popular hunter constellation. Credit: NASA/JPL-Caltech/ T. Megeath (University of Toledo).
Another key issue: If 60 to 70 percent of the stars in the Orion complex have disks, what constraints keep the other stars from developing them? Understanding how disks form in these environments may tell us much about how planets come to be, and perhaps help us examine our own Sun's birth. Did Sol come from a crowded city of stars or a relatively sparse stellar environment? Because stars drift away from their place of origin, answering that question can be tricky, but this Spitzer study gives us plenty of new material to work with.
Centauri Dreams' take: Stepping back from the details, what stands out here is the sheer fecundity of planetary formation. 2300 budding solar systems in this study alone — we seem to live in a universe that will make planets whenever and wherever it can. The implications for astrobiology are both obvious and heartening.