The disks of gas, dust and debris that surround young stars are breeding grounds for planets, a premise that every new exoplanet detection seems to confirm. But we know little about the disks themselves, and a key area of uncertainty continues to be the nature of disks around stars more massive than the Sun. What effect, for example, does their luminosity have on the disk, and how do the processes of large star formation affect planetary systems?
The European Southern Observatory's Very Large Telescope is providing data that will shape a more refined view of these disks. At the heart of these new studies is HD 97048, a star some 600 light years away in the stellar spawning ground known as the Chameleon 1 dark cloud. HD 97048 is two and a half times as massive as the Sun, and fully forty times more luminous, making it ideal for such study.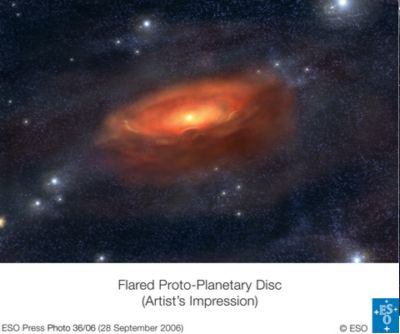 Image: Artist's impression of a flared proto-planetary disc, similar to what has been deduced from VISIR observations on ESO's Very Large Telescope around the 2.5 solar mass star HD 97048. Credit: ESO.
Infrared mapping of this star's disk with ESO's VISIR (VLT Imager and Spectrometer for the InfraRed) instrument shows a huge, flared disk, reaching twelve times further than the orbit of Neptune. "This is," says Pierre-Olivier Lagage (CEA Saclay, France), leader of the team that carried out the observations, "the first time such a structure, predicted by some theoretical models, is imaged around a massive star."
Unclear of the meaning of the word 'flared' in this context, I checked with Dr. Lagage. His answer: "A flared disk is a disk whose thickness increases rapidly when going further away from the star, so that any point at the surface from the disk is in direct view from the star."
Astronomers on Lagage's team estimate the disk must contain a large amount of gas, amounting to ten times the mass of Jupiter, and perhaps 50 Earth masses worth of dust. That would make for a dust mass about a thousand times larger than what we've yet seen around older stars like Beta Pictoris, Fomalhaut and Vega. Lagage again: "From the structure of the disc, we infer that planetary embryos may be present in the inner part of the disc."
In other words, the older stars mentioned contain dusty disks filled with debris thought to be the result of larger bodies colliding. We can do measurements on the dust but we have yet to detect the parent bodies that spawned it. Add up the mass of the dust and the presumed bodies that produced it and you get a mass similar to what is being seen around HD 97048. The young star's disk, then, is simply much less evolved, a precursor for later planet formation.
Follow-up observations using the European Southern Observatory's VLT interferometer are planned. A report on this work appears as Lagage et al., "Anatomy of a Flaring Proto-Planetary Disk Around a Young Intermediate-Mass Star" in the September issue of Science Express, with abstract available here.