Tau Boötis, a billion year old star some 50 light years from Earth, would be a fascinating place to see up close. The star is orbited by a gas giant some 4.4 times Jupiter's mass, one of those 'hot Jupiters' that close to improbably tight distances with the primary. In this case, the planet/star separation is a mere 0.049 AU, making it about 5 percent of the distance between the Earth and the Sun.
'Hot Jupiters' are bound to be dramatic objects anyway, but this one has other attributes. A team of French astronomers has been able to measure the magnetic field of Tau Boötis itself, finding it just slightly larger than the Sun's. That's the first direct measurement of the magnetic field of a star hosting an exoplanet, and it sets up interesting studies of the interactions between the two bodies as the planet moves so breathtakingly close to its star.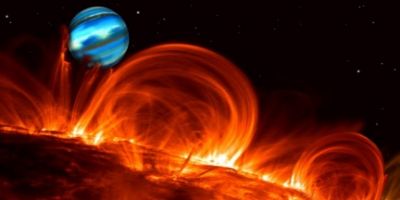 Image: An artist's conception of the giant exoplanet orbiting Tau Boötis through the star's magnetic archs. Credit David Aguilar, CfA.
In particular, the revolution of the planet shows it to be synchronized with a rotating band of material on the star's surface, suggestive of all kinds of interactions between magnetosphere and planet. A key factor in stellar magnetic fields is the fact that parts of the star rotate at different rates. In fact, matter at the equator of Tau Boötis rotates 18 percent faster than matter located at the poles.
We can suspect from all this that a lot is going on here, and it should trigger a memory. Remember Voyager's early images of tortured Io? One thing we learned about the pizza-like Jovian moon was that it orbited well within Jupiter's magnetic field, contributing to the charged particles in that field and concentrating them in what we came to call the 'Io torus,' a doughnut-shaped band surrounding Io's orbit. Huge electrical currents are created between Jupiter and Io, and we can imagine similar exotic effects occurring around the distant star.
This first direct measurement should contribute to our understanding of how magnetic fields affect planetary development, perhaps giving us clues to why planets like this one make migrations into the extreme inner systems around their star. The paper is Catala et al., "The magnetic field of the planet-hosting star tau Boötis," soon to appear in Monthly Notices of the Royal Astronomical Society and available in preprint form.