If you've seen the Sierra Nevadas, you know what Bob Brown is talking about when he likens the mountain range found on Titan to those beautiful peaks in the western United States. Brown (University of Arizona) is team leader of the Cassini visual and infrared mapping spectrometer. Cassini was able to resolve features down to 400 meters (1300 feet) on its October 25 flyby. And suddenly we have a mountain range, dunes, and something resembling a volcanic flow under Titan's inscrutable atmosphere.
Fascinatingly, at the top of the ridges are deposits of a white material that may be ethane snow or some other form of organic substance. Here's Cassini scientist Larry Soderblom (USGS) on the organics:
"There seem to be layers and layers of various coats of organic 'paint' on top of each other on these mountain tops, almost like a painter laying the background on a canvas. Some of this organic gunk falls out of the atmosphere as rain, dust, or smog onto the valley floors and mountain tops, which are coated with dark spots that appear to be brushed, washed, scoured and moved around the surface."
The Titan news is getting wide media coverage, so I'll simply point you to this link to JPL's news release on the subject. It's interesting to me how quickly we get used to human operations in truly exotic places. After we've seen spectacular images like the backlit rings of Saturn, we tend to go about our daily routine forgetting that the vehicle is still out there and working. And then Cassini bobs back into the news with yet another spectacular image or paradigm-shifting dataset and we're reminded just what an outstanding job our robotic explorers continue to perform.
A friend asked today how it was possible that we could be discovering entire mountain ranges for the first time on a world that had undergone so many surveys by Cassini. For the answer, examine the image below. These are composites made from radar, visual and infrared mapping spectrometer data. Take a close look and ponder what you're seeing.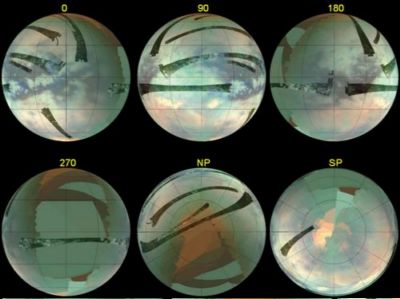 Image: This set of composite images was constructed from the best Cassini radar data and visual and infrared mapping spectrometer data obtained from all the Titan flybys up to the most recent flyby on Oct 25 (T20). The globe to the upper right is centered on 0 degrees longitude, and each of the other globes is labeled as to which longitude appears at the center of the disk. The two rightmost images in the bottom row are of the north and south poles of Titan, respectively. Credit: NASA/JPL/University of Arizona.
What stands out in the image is the sheer extent of what, if it were on Earth, we would call terra incognita. We see some detail from radar surveys, to be sure, and then the much more highly defined visual and infrared mapping spectrometer swathes. But you can see how little of the satellite's surface is covered by the latter. In contrast to places like Triton, Titan seems more and more familiar, but in reality we're only beginning to plumb its secrets. Ah for a Mars-style rover on that distant surface!