If I were a betting man, I would put some money on this proposition: The first detection of a potentially habitable planet will be made before the end of this decade, and the planet will be found around an M-class red dwarf. The method will doubtless be photometry, picking up the slight drop in light caused by such a planet transiting its star. A planet the size of our Earth will block about one percent of the stellar flux, as a recent paper points out, and a one percent photometric dip is quite detectible.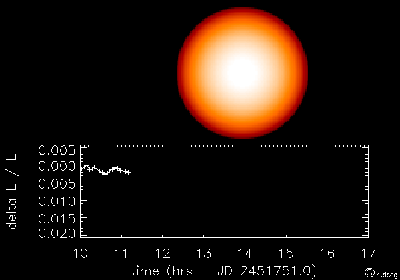 Image: An animation of a stellar transit around HD 209458. Credit: Transits of Extrasolar Planets Network. Although TEP concluded its work in 2001, you can still read about it online.
So the key is to find the right M-dwarf, with its planetary system lined up so that the hypothetical terrestrial world passes between its star and us. That's no small challenge, but Paul Shankland (U.S. Naval Observatory), who is lead author on the paper mentioned above, is working with colleagues around the world on a new collaboration to monitor M-dwarfs, enhancing our chances of finding transiting worlds or, just as valuable, proving that transits are not possible in the systems studied.
The collaboration, called Global Exoplanet M-dwarf Search-Survey (GEMSS) takes in James Cook University (Queensland) and includes Greg Laughlin's TransitSearch effort based at UC Santa Cruz). Here's how Shankland describes its method:
Our modus operandi as mentioned elsewhere, is to operate a continuous-coverage web of small telescopes – to characterize our prolific red dwarf population's propensity to have transiting exoplanets… We want to employ observers across the Earth in longitude in particular, to keep constant surveillance underway on a given target. Our initial plan is to test-run our USNO-JCU collaboration – and once that proves to run well, we will post campaign bulletins to expand the observational cadre – so stay tuned!
The GEMSS Web site, now coming online, appears at a time of unprecendented interest in red dwarfs, especially now that prospects for stable ecosystems in such a star's habitable zone have improved. Within the last ten years we've learned that even tidally locked worlds may retain an atmosphere and generate a flare-protective magnetic field. Moreover, the scarcity of gas giants around the M-dwarfs surveyed by the California & Carnegie Planet Search leads to an interesting prospect.
For the core accretion theory of planetary formation says that a large mass rapidly acquires gas from the material around it, resulting in a gas giant. Start with a small star and such a mass may not have time to form before the surrounding gases have dissipated. One scenario, then, has M-dwarfs housing smaller, rocky worlds but not often gas giants.
That would make stars like Gl 876, which Shankland's team has studied extensively, something of an anomaly. But even here, the two gas giants already detected are accompanied by a much smaller planet 7.5 times the mass of Earth (though too close to its parent to be habitable, evidently).
The effort now gearing up to find M-dwarf transits is exciting indeed, and ponder this: The slow fusion burn of these small stars gives them exceedingly long lives. Quoting Shankland again:
These stars are pretty small – with a mass & radius below a third of our Sun (to 0.08 solar masses, which are then classified as brown dwarfs) and a surface temperature below 3,500K. M dwarfs incorporate a slow P-P fusion (due to the temperature) to turn hydrogen into helium. This slow burn is likely to last billions to trillions of years (!) – and so they also burn dimly (1/10,000th the sun). This is a detractor to photometric work by GEMSS… But c'est-la vie.
A stable star that shines for a trillion years and does not brighten with age seems to create a remarkable chance for the development of intelligent life. And although that dim burn keeps us working within a stellar population roughly 20 parsecs from Earth, the small size of a red dwarf means that the ratio in mass between a terrestrial planet and its star is far greater than what we would find in solar systems like our own. That makes GEMSS' work easier. With as much as 80 percent of all stars being red dwarfs, GEMSS moves into a fertile hunting ground indeed.