Our first 'sniffs of air from an alien world,' as David Charbonneau calls them, have brought with them a bit of a surprise. Charbonneau (Harvard-Smithsonian Center for Astrophysics) is one of a team of astronomers who have measured the spectrum from the atmosphere of a transiting exoplanet. What the team expected to find was evidence of common molecules like water, methane and carbon dioxide. Yet the scientists found none of these. The spectrum they acquired was flat.
HD 189733b is the world in question, orbiting a star about sixty light years from Earth in the constellation Vulpecula. The transiting planet is a 'hot Jupiter,' slightly larger and more massive than Jupiter itself, orbiting once every two days about three million miles from its star. This remarkable work consisted of studying the so-called 'secondary eclipse' that occurs when the planet disappears behind the star, thus extracting the planetary data from the much brighter stellar signature.
Here's the method, as described by Charbonneau colleague Carl Grillmair (Caltech):
"Normally, trying to see a planet next to a star is like trying to see a firefly next to an airport searchlight several miles away. But in the case of our planet and the one being reported by the other teams, you can take the combined spectrum of the star and planet, and then when the planet passes behind the star, take another spectrum. By subtracting the second spectrum of just the star from the first, you can divine the spectrum of the planet itself."
What remarkable work with the Spitzer Space Telescope, which seems more capable than anyone had imagined (and recall that transiting exoplanets had yet to be discovered when Spitzer was designed). The key to these studies is the use of infrared. At infrared wavelengths, a planet is much brighter in comparison to its star than in visible light. The method worked perhaps beyond expectation, but the result was still unusual: Looking for water vapor in the data and a prominent methane signature, the team found its results indicative of something else, something that is most likely blocking these molecules from detection.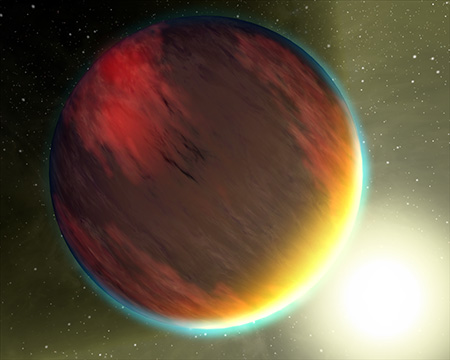 Image: This artist's concept shows a cloudy Jupiter-like planet that orbits very close to its fiery hot star. NASA's Spitzer Space Telescope was recently used to capture spectra, or molecular fingerprints, of two "hot Jupiter" worlds like the one depicted here. This is the first time a spectrum has ever been obtained for an exoplanet, or a planet beyond our solar system. Credit: NASA/JPL-Caltech/T. Pyle (SSC).
And what could that something be? Helping to untangle the puzzle is the spectrum of a different planet, HD 209458b, which is under investigation both by Jeremy Richardson (GSFC) and colleagues and a JPL team led by Mark Swain. Their spectra show silicates — molecules containing silicon and oxygen — which may exist on this planet as dust grains from which clouds can form. So what's going on in these separate spectral studies may be the marker of an interesting cloud structure. "We think that both planets may be cloaked in dark silicate clouds," said Charbonneau. "These worlds are blacker than any planet in our solar system."
Additional data (Grillmair and Charbonneau, for example, have only been able to observe their planet for 12 hours during two eclipses) should help clarify the situation. The Grillmair and Charbonneau paper "A Spitzer Spectrum of the Exoplanet HD 189733b" is to appear in the Astrophysical Journal Letters, and is available here as a preprint. The GSFC study is "A spectrum of an extrasolar planet", appearing in Nature 445 (22 February 2007), pp. 892-895, abstract here. A separate paper on HD 209458b by Mark Swain's team at JPL is to appear in Astrophysical Journal Letters (no preprint yet available).