If the dark features Cassini has found near Titan's north pole really are filled with liquid, they're seas more than lakes, one of them larger than any of the Great Lakes in North America. The image below says it all, comparing the largest of these features with Lake Superior. This work is being done through radar imaging, detecting dark radar surfaces that imply smoothness. Cassini's visual and infrared mapping spectrometer is also at work as the liquid hypothesis at Titan's surface is explored.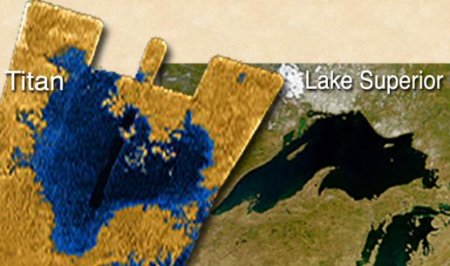 Image: This feature on Titan is at least 100,000 square kilometers (39,000 square miles), which is greater in extent than Lake Superior (82,000 square kilometers or 32,000 square miles), which is one of Earth's largest lakes. The feature covers a greater fraction of Titan than the largest terrestrial inland sea, the Black Sea. The Black Sea covers 0.085 percent of the surface of the Earth; this newly observed body on Titan covers at least 0.12 percent of the surface of Titan. Because of its size, scientists are calling it a sea. Credit: NASA/JPL/GSFC.
Assuming these are bodies of liquid, they're most likely filled with liquid methane and ethane. That jibes with current thinking that methane is continuing to move between the surface and the atmosphere, a cycle that will be further explored in Cassini's May flyby, when we'll get a more targeted pass over these dark areas. See JPL's mission news for more.