If we're finding planets in places 1500 light years away, as the TrES project just did, why don't we know more about planets in the Alpha Centauri system? One problem is that Centauri A and B are relatively close to each other, with a semimajor axis of 23.4 AU. Leaving Proxima Centauri out of the picture (at 12,000 AU, its short-term effects can be disregarded), it's still true that radial velocity studies have to take the complicated and varying spectra that binaries produce into account.
In other words, getting a read on binaries like these in terms of the slight wobbles that signal a planetary presence can consume lots of telescope time. Nonetheless, we do have some data thanks to observations with the Anglo-Australian Telescope. And we've learned this: No planet around either Centauri A or B induces a velocity variation as high as 2 meters per second. The implication is that any planet orbiting either star individually (in what is known as an S-type orbit) has to have a mass less than that of Saturn. Or if it is larger, and this is still possible, it must orbit in a plane that is substantially inclined to the line of sight to the system.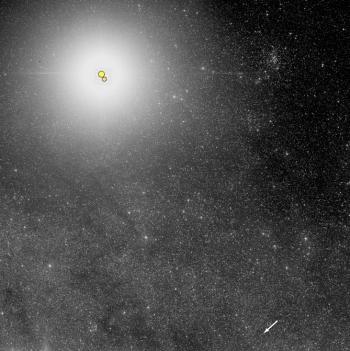 That news comes from the latest paper by Elisa Quintana (SETI Institute) and Jack Lissauer (NASA Ames), whose recent work has examined planetary possibilities in binary star systems of various kinds (to review their previous work, run a search here under either name — you'll find plenty of discussion on the question of what binaries may produce). While the new paper doesn't limit itself to the Centauri stars, it does discuss simulations of the final stages of terrestrial planet formation using varying parameters to discover whether and where planets are likely there.
Image: Alpha Centauri A and B, with the position of the two stars, drowned by glare, shown in the imposed diagram. Proxima Centauri's position is shown by the arrow. Credit: European Southern Observatory.
Quintana and Lissauer started their simulation assuming rocky planetesimals of Moon to Mars size that have already begun accreting from the protoplanetary disk. They then studied their evolution over a period of up to one billion years, with slight changes to the initial conditions to explore possible outcomes. For Centauri, the bulk of their simulations considered a disk centered on Centauri A, with Centauri B perturbing the system. The results here seem encouraging:
Using a protoplanetary disk centered on Centauri A and co-planar to the binary orbital plane, five terrestrial planets at least as massive as Mercury form around Centauri A within 100 million years, stable in orbits within 2 AU for the remainder of a 200 million year simulation.
With a change to the initial position of one planetesimal near 1 AU, the system still produces four terrestrial planets within 1.8 AU of Centauri A.
With a disk inclined initially by 15 percent relative to the binary orbital plane, three terrestrial planets are formed within 1.2 AU.
Indeed, the orbital inclination is clearly potent. From the paper:
We performed a total of 16 simulations of terrestrial planet growth around α Cen A in which the midplane of the disk was initially inclined by 30◦ or less relative to the binary orbital plane. In these simulations, when the bodies in the disk began in prograde orbits, from 3 – 5 terrestrial planets formed around α Cen A. Slightly more formed, from 4 – 5, when i = 180◦ relative to the binary plane. From 2 – 4 planets formed in a disk centered around α Cen B, with α Cen A perturbing the system in the same plane… The distribution of final terrestrial planet systems in the aforementioned cases is quite similar to that produced by calculations of terrestrial planet growth in the Sun-Jupiter-Saturn system.
The Centauri A and B stars are our focus today, but Quintana and Lissauer also look at terrestrial planet formation in wide binary systems and examine P-type orbits, in which planets circle both stars in a close binary system. Keep in mind that we have already found some thirty Jupiter-class exoplanets in orbits around one member of a binary system. While in most cases the two stars have a wide separation, three of these systems have a semimajor axis of only 20 AU. It becomes clear that binary systems may well support terrestrial planets as well, a significant finding given that the majority of Sun-like stars are found in such systems. In fact, say Quintana and Lissauer:
Approximately half of the known binary systems are wide enough (in this context, having sufficiently large values of periastron) so that Earth-like planets can remain stable over the entire 4.6 Gyr age of our Solar System.
And here is their suggestive conclusion:
As a result, ~ 40 – 50% of binaries are wide enough to allow both the formation and the long term stability of Earth-like planets in S-type orbits encircling one of the stars. Furthermore, approximately 10% of main sequence binaries are close enough to allow the formation and long-term stability of terrestrial planets in P-type circumbinary orbits. Given that the galaxy contains more than 100 billion star systems, and that roughly half remain viable for the formation and maintenance of Earth-like planets, a large number of systems remain habitable based on the dynamic considerations of this research.
So we have to put the Centauri question in context. These bright, tantalizing targets, so close to our own Solar System, will gradually yield their secrets. But work over the past decade has made it plain that planetary orbits around the two primary Centauri stars are stable within parameters that could put them in the habitable zones of each. And we're learning that planetary formation is feasible under a wide range of initial scenarios. Alpha Centauri, it seems fair to say, may prove to be home to some of the most intriguing exoplanets we'll find in the near future.
The paper is Quintana and Lissauer, "Terrestrial Planet Formation in Binary Star Systems," slated to appear in the book Planets in Binary Star Systems, ed. Nader Haghighipour (Springer, 2007) and available online. Clearly, the upcoming title is one we'll be examining with great interest.