Saturn's moon Iapetus has given us something never before available: A history of its rotation and the effects of that rotation on its development. No other moon in the Solar System is quite like this one, for Iapetus maintains the shape it had when it was only a few hundred million years old. Cassini showed us that shape in a 2005 flyby, revealing a bulge at the moon's midsection, and a chain of mountains along its equator.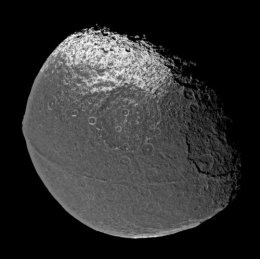 How did the bulge form? The notion, presented in a recent paper published online in Icarus, is that Iapetus' walnut shape points to a much faster spin rate than we see today and a far warmer interior. The size of the bulge implies a rotation as fast as five hours per revolution, stretching the moon into its current oblate shape. By the time the rotation slowed, the outer shell had frozen and the excess material began to pile up in the mountain chain visible today at the equator.
Image: The most unique, and perhaps most remarkable feature discovered on Iapetus in Cassini images is a topographic ridge that coincides almost exactly with the geographic equator. The ridge is conspicuous in the picture as an approximately 20-kilometer wide (12 miles) band that extends from the western (left) side of the disc almost to the day/night boundary on the right. On the left horizon, the peak of the ridge reaches at least 13 kilometers (8 miles) above the surrounding terrain. Along the roughly 1,300 kilometer (800 mile) length over which it can be traced in this picture, it remains almost exactly parallel to the equator within a couple of degrees. Credit: NASA/JPL/Space Science Institute.
"Iapetus' development literally stopped in its tracks," says Julie Castillo (JPL). "In order for tidal forces to slow Iapetus to its current spin rate, its interior had to be much warmer, close to the melting point for water ice." Castillo's JPL team point to short-lived radioactive isotopes aluminum-26 and iron-60 as the probable cause, and date the moon at 4.564 billion years by studying the aluminum-26 decay rate. The same two isotopes have been found in meteorites formed in the inner Solar System.
Cassini heads for Iapetus again in early September, with a pass 1000 kilometers over the surface. Will new data confirm or challenge this interesting model? Alternative explanations are hard to come by, for the once rapidly rotating Iapetus had to have been warm enough for tidal forces to slow its spin rate to the present period of eighty days. At the same time, its heat source had to be extinguished swiftly for the frozen relic we see today to emerge. September may tell whether the moon that spun fast and froze young has still more secrets to reveal.