by Bernd Henschenmacher
Giancarlo Genta's new book Lonely Minds in the Universe deals with many aspects of the search for extraterrestrial life and intelligence. As does Michael Michaud in his Contact with Alien Civilizations, Genta examines the scientific and philosophical implications of such contact. The book begins with an overview of Western thought on the subject from the ancient Greeks to the late 20th Century, including the question of how extraterrestrial contact might affect human religious beliefs.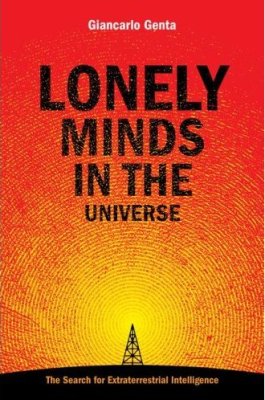 The book's astrobiological chapters offer a rapid introduction to this emerging science. Readers who are familiar with concepts like habitable zones, speculations about life on Mars, Europa or Titan and the concept of a galactic habitable zone will find little new here, but this section offers a well written and easy to understand backgrounder.
The book's treatment of evolution, intelligence and consciousness — including the problem of defining consciousness itself — is striking. Genta provides an introduction to the evolution and origin of the human mind, one that questions traditional concepts of the association between intelligence and consciousness. Can intelligence exist without consciousness? The book's final chapters deal with the sociological and technical aspects of ETIs. Is interstellar travel inevitable for technological civilizations? What about dealing with contact? Can wars occur between different species? (The author rejects the idea because of the huge distances between the stars and the speed of light barrier).
Even though the possibility of faster than light travel and breakthrough propulsion by manipulating gravity, inertia or space-time are mentioned, the author concludes that fast interstellar flight (i.e., within single human lifetimes) will probably involve methods we cannot even imagine at the moment. This book is highly recommended for anyone looking for for an overview about the scientific and philosophical aspects of astrobiology and SETI.