Xanadu seems to be a misty, drizzly place. So say new images showing a persistent light rain of methane over the western foothills of this, the major continent of Titan. Titan's day is sixteen Earth days long, so if we say the drizzle or mist dissipates after about 10:30 AM local time, we're saying that it lasts until three Earth days after sunrise. As much as the Sun ever rises on this frigid, cloud-bound world.
The work, conducted using data from the Keck Observatory (Hawaii) and Very Large Telescope (Chile), was presented today at the Division for Planetary Sciences meeting in Orlando (FL). The findings mark the first direct observation of methane rain, although precipitation has been presumed to occur for some time now. Features near Titan's poles have been interpreted as lakes of liquid hydrocarbons, presumably replenished by just such precipitation.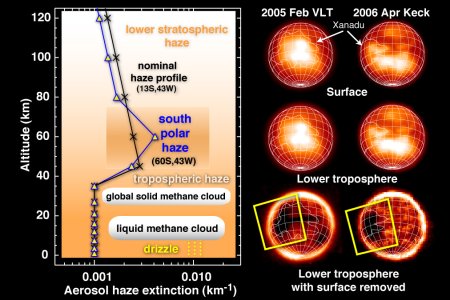 Image: VLT and Keck near-infrared images of Titan's surface and lower
troposphere can be subtracted to reveal widespread cirrus-like clouds of frozen methane (lower images) and a large patch of liquid methane (dark area within box) interpreted as clouds and morning drizzle above the huge continent of Xanadu (outline). At left is a chart of Titan's aerosol haze versus altitude, indicating higher density haze over portions of the south pole and the heights of frozen and liquid methane clouds. Credit: Mate Adamkovics/UC Berkeley, W. M. Keck Observatories, ESO.
The researchers, Máté Ádámkovics and Imke de Pater (UC Berkeley), see the widespread drizzle as a possibly dominant mechanism for returning methane to the surface, thus closing the methane cycle in a way similar to how the water cycle operates on Earth. The first images of actual clouds on the moon were the work of de Pater's group, finding frozen methane clouds at an elevation of some 30 kilometers over Titan's south pole. That work was done in 2001, since which time much data on the clouds has accumulated. Liquid methane clouds seem to occur below 20 kilometers.
In any case, getting a read on precipitation is hard work. Says Ádámkovics:
"The stratiform clouds we see are like cirrus clouds on Earth. One difference is that the methane droplets are predicted to be at least millimeter-sized on Titan, as opposed to micron-sized in terrestrial clouds – a thousand times smaller. Since the clouds have about the same moisture content as Earth's clouds, this means the droplets on Titan are much more spread out and have a lower density in the atmosphere, which makes the clouds 'subvisible' and thus hard to detect."
You need to do this kind of work at infrared wavelengths because Titan's haze then becomes relatively transparent rather than presenting the impenetrable layers of smog seen in optical wavelengths. Using different infrared wavelengths, the researchers could probe the atmosphere at a range of altitudes, creating a methane absorption profile that allowed analysis of the clouds and their attendant drizzle. Tricky work, this, its methodology fully explained in today's issue of Science Express, where the paper is Ádámkovics et al., "Widespread Morning Drizzle on Titan" (abstract).
Related: New Cassini views of Titan's lakes and seas, with lakes also discovered around Titan's south pole, have just become available.