I want to get back to James Bickford's antimatter study tomorrow, at which time I'll set up the full report for download here. This work has already elicited plenty of response, both in comments and backchannel, so tomorrow we'll talk about the mechanisms that create antimatter in our Solar System naturally (as opposed to what we do with particle accelerators), and also ponder how realistic missions to harvest such antimatter could be built around technologies currently in the pipeline.
Right now, though, the news conference on 55 Cancri is ongoing, the news from this system more and more interesting now that another planet, the fifth, has been discovered. This is the first system found with this many planets, although the assumption is there will be many, many others. But 55 Cancri, some 41 light years away in the constellation Cancer, bears some resemblances to our own Solar System. The farthest planet from the star is a gas giant about four times Jupiter's mass orbiting every 14 years, which is not dissimilar to Jupiter's 12-year orbit.
The new planet, discovered with data from Lick Observatory and the Keck Observatory in Hawaii, shows about 45 Earth masses (half the mass of Saturn) and orbits the star every 260 days. Interestingly enough, this fourth planet out from 55 Cancri lies in the system's habitable zone, as shown in this slick animation. So here we go with the 'habitable moons around giant planets' discussion again, the assumption being that a large enough moon around this planet could retain liquid water and perhaps become a home to some form of life. The question is even more interesting given that the planets in this system, like those in ours, move in relatively circular orbits.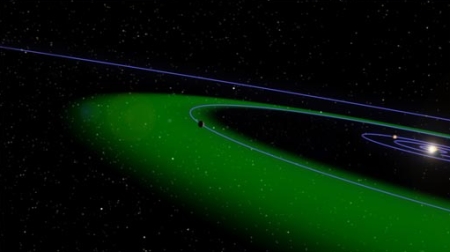 Image: The newest member of the 55 Cancri family – a massive planet, likely made of gas, water and rock, about 45 times the mass of Earth and orbiting the star every 260 days. This planet is the fourth out from the star, and lies in the system's habitable zone (green). A habitable zone is the place around a star where liquid water would persist. Though the newest planet probably has a thick gaseous envelope, astronomers speculate that it could have one or more moons. In our own solar system, moons are common, so it seems likely that they also orbit planets in other solar systems. If such moons do exist, and if they are as large as Mars or Earth, astronomers speculate that they would retain atmospheres and surface liquid water that might make interesting environments for the development of life. Credit: NASA/JPL-Caltech.
Could 55 Cancri hold even more planets? Sure, and that might include small, rocky worlds too small for current detection. But even with the planets we now observe, the resemblances I spoke about above are noteworthy. No other system has a Jupiter-class planet in such a distant orbit, and in both systems, inner planets that are less massive than the outer ones are found. On the flip side, look at how close 55 Cancri's three inner worlds are to their star. The closest, of Uranian mass, is on a three-day orbit. The second, not much smaller than Jupiter, orbits in about 15 days, while the third, a Saturn-class world, orbits every 44 days. That's a lot of close-in activity compared to what we're familiar with.
Even as the news conference proceeds, I'm thinking we're living in the golden age of exoplanet research. I remember wondering once what it must have been like to do astronomy in the Edwin Hubble era, when the size of the universe itself was being so radically redefined and our understanding of the nature of distant objects completely altered. But this is better, with the prospect of moving from single planet discoveries to fully characterized systems ahead of us. Add the potential of space-based terrestrial planet finding missions and spectroscopic data on planetary atmospheres and I can only imagine the rush of new talent that's going to be wanting to contribute to this field.
Related: Note this, from a recent report on the CoRoT mission at the 300-day mark (and sent along by our friend Vincenzo Liguori): "CoRoT is discovering exo-planets at a rate only set by the available resources to follow up the detections…" A golden age indeed.