I've always enjoyed Lynette Cook's work. As you can see in the image below, this space artist captures the drama of celestial events by drawing on recent findings. Like Chesley Bonestell, Cook can take you to an exotic place and leave you staring, but her focus is tighter, homing in on exoplanets as filtered through ongoing work at observatories worldwide. The wonders she'll have to work with as we find more and more such worlds can only be imagined. The dazzling collision below is her take on what may be happening as rocky planets form around HD 23514.
The star's designation doesn't jump out but its location does, the oft-studied Pleiades star cluster. Joseph Rhee (UCLA) and collaborators have been working infrared wavelengths using the Gemini North Telescope (Mauna Kea) and space-based infrared instruments, measuring the hot dust around this 100-million year old star. HD 23514 is Sun-like enough to add to the intrigue of this exercise, and it's orbited by hundreds of thousands of times more dust than our Sun. Evidence for catastrophic collisions in an evolving planetary system? Perhaps.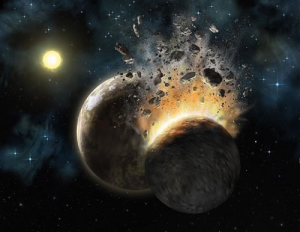 Whatever is happening seems to originate in a zone between 1/4 to 2 AU from the star, the region between Mercury and Mars in our own Solar System. Benjamin Zuckerman (UCLA) thinks the sheer amount of hot dust is the result of a fairly recent collision between large rocky bodies, perhaps reminiscent of the 'Big Whack' that produced the Moon four billion years ago. Says Zuckerman: "Indeed, the collision that generated the Moon sent a comparable mass of debris into interplanetary orbits as is now observed in HD 23514."
Image: Artist's rendering of what the environment around HD 23514 might look like as two Earth-sized bodies collide. Artwork by Lynette Cook for Gemini Observatory.
This isn't the first time Zuckerman has worked on terrestrial planet formation around Sun-like stars. It was back in 2005 that his team reported on BD+20 307, some 300 light years away in the direction of the constellation Aries. That one sports fully one million times the amount of dust that is orbiting our Sun, a step up even from HD 23514. The conclusion: Most young Sun-like stars are probably building terrestrial-style planets through recurring violent collisions. Indeed, comments Rhee, "This is the first clear evidence for planet formation in the Pleiades, and the results we are presenting strongly suggest that terrestrial planets like those in our solar system are quite common."
Much younger stars in the 10 million year old range or younger are far more likely to have this much dust around them than stars as old as HD 23514, making it and BD+20 307 useful examples of how planet formation may occur around such 'adolescent' stars. The paper is Rhee et al., "Warm dust in the terrestrial planet zone of a sun-like Pleiad: collisions between planetary embryos?" accepted for publication in The Astrophysical Journal and available online. The paper on BD+20 307 is Song et al., "Extreme collisions between planetesimals as the origin of warm dust around a Sun-like star," Nature 436 (21 July 2005), 363-365 (doi: 10.1038/nature03853). Abstract available.