One thing we'd like to know about exoplanets is where they are likely to be found. We've located more than 250 of them, but most are confined within about 650 light years. That's very much in the local neighborhood by galactic standards — our methods have led us to nearby, bright stars. We do have a small number of planets detected through microlensing, some as far away as 6000 parsecs (about 19,500 light years), but our radial velocity detections, which form the great bulk of the current catalog, tend to be confined to relatively close higher mass stars.
Other similarities? The exoplanet host stars we know about are generally metal rich. And because they're nearby, they're located in the galactic disk. This leaves us with some key questions, among them whether planets are equally abundant elsewhere in the galaxy. Other issues:
Do planets occur with the same frequency around lower mass stars?
Does the presence of heavy elements favor particular parts of the galaxy for planet formation?
How do 'hot Jupiters' fit into the galactic map of planet formation?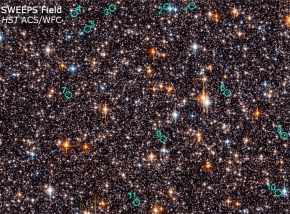 The SWEEPS Project (Sagittarius Window Eclipsing Extrasolar Planet Search) sets out to study these questions. Using the Hubble Space Telescope and the Wide Field Camera of the Advanced Camera for Surveys, this effort has looked at approximately 180,000 F, G, K and M dwarfs in a dense stellar field in the galactic bulge. The goal is to find transits of Jupiter-size planets in an area over 27,000 light years from Earth. SWEEPS monitored this field over a seven day period in 2004. Remarkably, Hubble can work with an M dwarf having an apparent visual magnitude of 25.5 at this range and still detect planetary transits.
Image (click to enlarge): Part of the stellar field observed in the SWEEPS survey. The green circles indicate the position of 11 of the 16 host stars that have been found. Copyright : NASA/HST, ESA, K. Sahu (STScI) and the SWEEPS Science Team.
The results: SWEEPS found sixteen candidate transiting exoplanets. From the paper:
After correcting for geometric transit probability and our detection efficiency, our detections suggest that the frequency of planets in the SWEEPS field is similar to that in the local neighborhood.

The frequency of planets around low-mass stars is also similar to the frequency of planets around higher-mass stars, but given the small number statistics, the uncertainty is large which can easily be a factor of 2 or 3.
Interestingly, the project identified a new class of ultra-short period planets with orbital periods shorter than one day. The host stars for this category are all low mass, suggesting "…that planets orbiting very close to more massive stars might be evaporatively destroyed, or that planets can migrate to close-in orbits and survive there only around such old and low-mass stars." A final SWEEPS finding: Planets seem to occur more frequently with higher metallicity even in the galactic bulge.
The paper is Sahu et al., "Planets in the Galactic Bulge: Results from the SWEEPS Project," scheduled to appear in Extreme Solar Systems, eds. D. Fischer, F. Rasio, S. Thorsett, A. Wolszczan (ASP Conf. Series). The paper is available online.