A flattened envelope of gas and dust surrounding the young protostar L1157 gives us some idea of what our Solar System may have looked like as it began to form. The object is only a few thousand years old, the central star hidden, with its envelope detectable in silhouette as a black bar. The view from the Spitzer Space Telescope (below) shows how infrared can look within the dust to see structure. While the telescope cannot penetrate the envelope (itself hard to see in this image), enormous jets whose hottest points appear in white are clearly defined.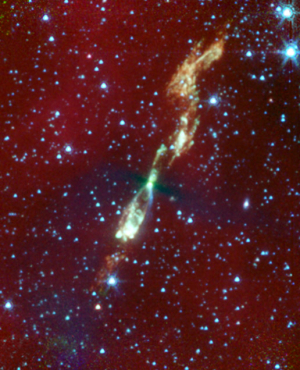 These jets are interesting. They're being emitted from the protostar's two magnetic poles, and are approximately one and one half light years from end to end. The envelope of material is too thick for Spitzer to penetrate and appears in black, its thickest part visible as a black line crossing the jets. The envelope is roughly centered on the polar jets and perpendicular to them, showing up more clearly in the grayscale image below, which is drawn from the paper soon to be published on this work.
Image (above): A rare, infrared view of a developing star and its flaring jets taken by NASA's Spitzer Space Telescope shows us what our own solar system might have looked like billions of years ago. In visible light, this star and its surrounding regions are completely hidden in darkness. The color white shows the hottest parts of the jets, with temperatures around 100 degrees Celsius. Most of the material in the jets, seen in orange, is roughly zero degrees on the Celsius and Fahrenheit scales. The reddish haze all around the picture is dust. Credit: NASA/JPL-Caltech/UIUC.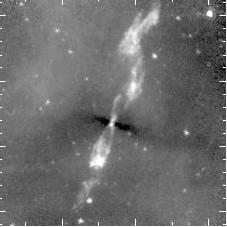 The collapsing cloud that will give rise to this system rotates faster as it coalesces, the growing magnetic field ejecting some of the gas and dust along the magnetic axis. Leslie Looney (UIUC) notes the significance of the jets: "If material was not shed in this fashion, the protostar's spin would speed up so fast it would break apart."
Image: This grayscale view of L1157 makes the presence (and size) of the surrounding envelope more apparent. Credit: Leslie Looney/UIUC.
Some 800 light years from Earth in the constellation Cepheus, L1157 appears black in visible light but infrared reveals the structures that should one day produce planets around this star. But keep the scale in mind. Although L1157 will one day be a star of about solar mass, the envelope of gas and dust around it is huge, big enough to hold tens of thousands of solar systems like ours. What will eventually become a planet-forming disk would be in the first photograph smaller than a pixel.
The paper is Looney, Tobin et al., "A Flattened Protostellar Envelope in Absorption around L1157," accepted for publication in Astrophysical Journal Letters and available online.