The accepted take on the formation of Saturn's rings not so long ago was that they had emerged within the past 100 million years. The most likely driver: A comet that broke a larger moon into pieces, forming ring features seemingly consistent with what the Voyagers saw in the 1970s and the Hubble telescope has seen ever since. But leave it to Cassini to stir things up yet again with much more precise data suggesting that the rings did not form in a cataclysmic event but are continually recycled.
Thus Larry Esposito (Colarado University, Boulder), who is also principal investigator for Cassini's Ultraviolet Imaging Spectrograph:
"The evidence is consistent with the picture that Saturn has had rings all through its history. We see extensive, rapid recycling of ring material, in which moons are continually shattered into ring particles, which then gather together and re-form moons."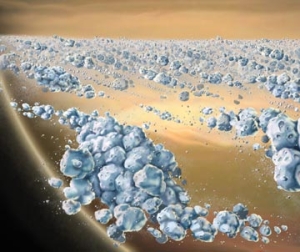 The findings received less media attention than Voyager 2's crossing of the termination shock, discussed at the same American Geophysical Union meeting in San Francisco recently. But they're interesting nonetheless. Because what Cassini is telling us is that Saturn's ring system is probably a good deal larger than previously understood, which would explain why the rings aren't darker. Incoming meteoric dust, it was once thought, should cause such a darkening, but the rings clearly appear bright when seen from Earth and, obviously, from Cassini.
Image: An artist concept of a close-up view of Saturn's ring particles. The blue particles are composed mostly of ice and clump together to form elongated, curved aggregates, continually forming and dispersing. The space between the clumps is mostly empty. The largest individual particles shown are a few yards across. Image courtesy NASA/JPL/University of Colorado.
"The more mass there is in the rings, the more raw material there is for recycling, which essentially spreads this cosmic pollution around," says Esposito. "If this pollution is being shared by a much larger volume of ring material, it becomes diluted and helps explain why the rings appear brighter and more pristine than we would have expected."
We'll get details in Esposito's upcoming paper in Icarus. Clumps of icy debris form and break apart with regularity, as observed by Esposito's team using stellar occultation, examining the rings' effect on starlight passing through them. A far more ancient structure than once thought, then, but the whole system is also in a continuous state of change as these processes churn on across their vast expanse. A video animation of Saturn's F-ring undergoing these changes can be viewed here.