Another youthful star makes the news today, the eight million year old HR 4796A in Centaurus, some 220 light years from Earth. As we saw yesterday, we have much to learn about how planets form around young stars. This one hasn't yielded a planet, but its dust disk, discovered in 1991, seems to derive from a planetary system in formation, the evident product of collisions between small bodies called planetesimals.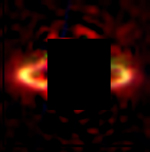 The latest work on HR 4796A draws on observations made by the Near-Infrared Multi-Object Spectrometer aboard the Hubble Space Telescope. The spectra that John Debes and Alycia Weinberger (Carnegie Institution, Washington) studied in visible and infrared light scattered by the star's disk look red and imply the existence of the large organic carbon molecules called tholins. These are organic aerosols, complex molecules that, on Titan at any rate, remain suspended in the atmosphere and may contain chemical precursors to life.
Image: Red and near infrared wavelengths from the dust disk surrounding the star HR 4796A (masked in false-color image to make fainter disk visible) suggest the presence of complex organic molecules. The inner "hole" of the ring-shaped disk is big enough to fit our entire solar system and may have been swept clean of dust by orbiting planets. Credit: John Debes.
How sure are we of the tholin identification? The authors are understandably cautious, saying:
Longer wavelength scattered light observations will further constrain the grain models we have used, particularly around 3.8-4µm where a large absorption feature is seen for different grain sizes of tholins. This would help to directly confirm whether Titan tholins are an adequate proxy for the material in orbit around HR 4796A. Additionally, measuring the optical properties of organic materials in meteorites and from samples of the Stardust mission will provide further tests of our model grains.
If 'tholins' ring a bell, it may be because we've looked at them before as a factor on Titan, just one place in the Solar System they have been detected. But until now (and assuming these findings are confirmed) tholins have not been found outside the vicinity of our Sun. That makes this result interesting in itself, but even more so when placed in context. HR 4796A is twice as massive as the Sun and twenty times more luminous. Learning how planets form and looking for possible ways for life to evolve in systems sharply different from our own may teach us much about the broader mechanisms at work around other stars.
The paper is Debes, Weinberger et al., "Complex Organic Materials in the Circumstellar Disk of HR 4796A," to be published in Astrophysical Journal Letters and available in preprint form online.