Watching two suns over Tatooine's sky in the original Star Wars movie was a breathtaking experience, particularly given where most science fiction films were at the time. Here was an attempt to convey a truly alien landscape. But a second thought quickly came unbidden. Was this planet not in an extremely unstable orbit, moving around both stars simultaneously in an obvious habitable zone? The suspicion was that a planet could orbit one or the other members of a binary system, but surely not both unless its orbit were extended so far out into the planetary nether regions as to make life doubtful.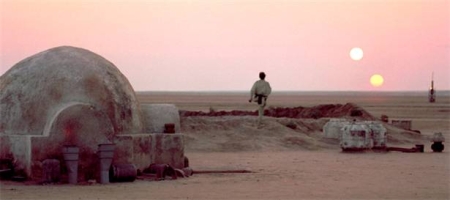 Image: The twin suns of Tatooine. Are planetary orbits like this possible? Credit: © Lucasfilm Ltd. & TM. All Rights Reserved.
That was back in the 1970s, of course, but take a look at the situation today. The 'hot Jupiter' in the triple system HD 188753 is interesting, but the planet in question orbits but one of the stars. The early discussion of HD 188753 Ab was quick to raise the Tatooine parallel, which was first suggested by Caltech scientist Maciej Konacki. But at 0.04 AU, this gas giant hugs its G-class star, with the other two stars orbiting each other and also — at Saturn-like distance — the same star orbited by the planet.
We do have one known exoplanet that orbits twin stars, but PSR B1620-26 is not your average stellar system, consisting of a pulsar and a white dwarf. Even so, twenty percent of known exoplanets are in multiple systems, and it's interesting to speculate on whether a planet with a double sunrise like that of Tatooine might exist. Radial velocity techniques avoid short-period binaries of the sort that might make this possible, and the wide orbits of such planets would likely make transit detections quite difficult. But Cheongho Han (Chungbuk National University, Korea) is now arguing that microlensing techniques might work here.
From the paper:
The general geometry of a planet revolving around the stars of a close binary is such that the separation between the stars is much smaller than the star-planet separation… Under this geometry, the lensing behavior of the triple lens system can be greatly simplified because the close stellar binary pair and the planet can be separately treated.
Cheongho Han argues that a planet like this would be involved in perturbations at a common region around the center of mass of the binary stars, creating a detectible microlensing signature. Despite the extreme difficulty of the task, such analysis of microlensing data has already begun. Multiple telescopes at different locations, allowing continuous coverage of microlensing events, should be able to detect a planet that fits this description. Given the difficulty of radial velocity and transit methods for this work, it may be that microlensing will be the method of choice to find a planet that, like Tatooine, would experience multiple sunrises. It would be a view to be savored, though not, one suspects, one that living beings would be around to observe.
The paper is Cheongho Han, "Microlensing Search for Planets with Two Simultaneously Rising Suns," a draft of which is available here.