Saturn's rings turn out to be more dynamic than expected, and it's clear that what Cassini has to tell us about them — and about the rest of the Saturnian system — is only beginning. Throw Enceladus into the picture and things get even more complicated, and interesting. Geysers on the moon have already been found to supply content to the so-called E-ring, while material flowing from it in the form of the gas of electrically charged particles called plasma is now known to influence Saturn's magnetosphere. The latest discovery is that this plasma is, in turn, being drawn into Saturn's A-ring, where it is being absorbed.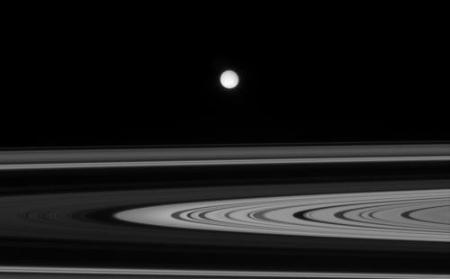 Image: Enceladus seen across the un-illuminated side of Saturn's rings. A hint of the moon's active south polar region can be seen as a just slightly dark area at bottom. This view was obtained from about 1 degree above the ringplane. Enceladus is 505 kilometers (314 miles) across. Credit: NASA/JPL/Space Science Institute.
Unlike Jupiter, then, Saturn seems to have acquired a way to soak up low and high-energy particles from the plasma cloud that surrounds it. How to detect the phenomenon? Cassini's arrival at Saturn in 2004 included a close flyby over the A-ring. The spacecraft was able to determine that radio signals were being emitted from that part of the A-ring in collision with the plasma. From the signals, the density of the plasma could be inferred, as could the change in density over time. William Farrell (NASA GSFC) describes what is happening:
"As we approached the A-ring, the frequency dropped, implying that the plasma density was going down because it was being absorbed by the ring," said Farrell. "What really drove this home was what happened to the signal when we passed over a gap in the rings, called the Cassini division. There, the frequency went higher, implying that the plasma density was going up because plasma was leaking through the gap."
It's an interesting result given the distance between the A-ring and Enceladus: about 100,000 kilometers. Now we're seeing that a portion of Enceladus' mass is being delivered to the outer edge of the ring. Good work by Cassini's Radio and Plasma Wave instrument, whose data is studied by Farrell et al. in "Mass unloading along the inner edge of the Enceladus plasma torus," Geophysical Research Letters Vol. 35 (January 23, 2008), L02203 (abstract). A NASA news release is here.