We have a long way to go in the study of circumstellar disks, especially around smaller stars. Given the difficulty of making such observations, work at the Subaru Telescope has focused on stars more massive than the Sun in hopes of studying the more apparent structure of the disks around such stars. But FN Tauri is an exception. The young star is a tenth of the Sun's mass, its disk seven times lighter than the lowest mass disk previously imaged, which was around the star TW Hydrae. The hope is to extend our knowledge of planetary formation more broadly across stellar types to learn what kind of worlds they form and where.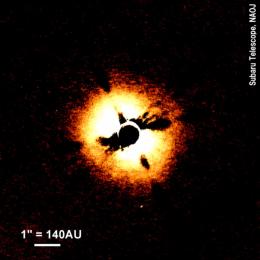 The team of Japanese researchers performing this work used the Coronagraphic Imager with Adaptive Optics (CIAO) at the Subaru Telescope. What they've learned about FN Tauri is that the thick, roughly circular disk, with a radius of 260 AU, is relatively featureless at this point in the star's evolution (FN Tauri is thought to be a mere 100,000 years old). Thus far it seems that the more massive protostellar disks are those more likely to show asymmetries. With a mass estimated at 6 percent of the star, the FN Tauri disk becomes thicker with increasing distance, making it appear brighter than expected.
Image: FN Tauri captured by CIAO instrument mounted on the Subaru Telescope. This infrared image taken at 1.6 micron shows an almost face-on circular disk structure. The light from the central star FN Tauri itself is blocked by the coronagraph mask. Somewhat symmetrical darker areas are the blocking by the secondary mirror support. Credit: Subaru Telescope/NAOJ.
In the class of stars known as T Tauri, FN Tauri is powered by the contraction of its disk as it moves toward the main sequence and thus offers a look at early stellar formation. Based on current models, the protoplanetary disk around the star could produce no planets larger than Earth and could form smaller worlds within 30 AU. New adaptive optics at the Subaru site (located on the summit of Mauna Kea in Hawaii) should make still more detailed observations of disk structures possible, along with analysis of the material within them. That makes work like this valuable not only in itself, but also in terms of target gathering for the more powerful telescopes planned for next generation exoplanet hunting.
The paper is Kudo et al., "Discovery of a Scattering Disk around the Low‐Mass T Tauri Star FN Tauri," Astrophysical Journal 673 (January 20, 2008), L67-L70 (abstract).