Centauri Dreams has long championed Webster Cash's innovative New Worlds mission concepts, which would use a 'starshade' to block the light of distant stars to reveal their planetary systems. Cash envisions using multiple spacecraft for this assignment, one the starshade itself, the other a telescope that would make the needed observations. After a series of ups and downs, New Worlds now receives new life in the form of a $1 million award from NASA to study the starshade's possibilities.
Remember that we're still at an early research level when it comes to funding of this kind — the actual observatory, a design Cash calls New Worlds Observer — would cost an estimated $3.3 billion to design and build. Other mission concepts are still in play (fully nineteen observatory concepts have been chosen for further study), so the road ahead is by no means clear as we look toward space missions that can identify Earth-like planets around other stars. But Cash's designs are well vetted, and should prove attractive to those responsible for narrowing the field.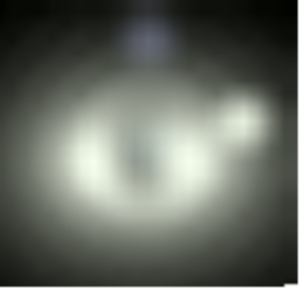 At right is a simulation of what New Worlds Observer might see if pointed at Sol from 10 parsecs out. The blue bulge at the top is the Earth; the second object is Venus. To do this kind of work, NWO would use a starshade fifty yards in diameter, placed at Lagrange point 2 (L2), where a stable orbit can be achieved that balances the gravitational effects of the Sun and the Earth. The projected four-meter telescope is considerably larger and more powerful than the Hubble Space Telescope. Telescope and occulter would be stationed some 50,000 kilometers from each other along the line of sight to a nearby star, with the starshade moved as needed to select a variety of targets (you can see that two starshades would make even more sense, one able to move into position on the next star while the first observes its target).
Image: A simulated image of the inner solar system taken at 10 parsecs with a 4-meter telescope. Credit: Phil Oakley.
What to do with New Worlds Observer? The detection of the light of individual planets would allow us to understand the entire exoplanetary system, while using spectroscopy to analyze atmospheres for biomarkers like methane, oxygen and water. Photometric methods could show us variations in color as surface features rotate in and out of view. Take those methods to the max and you may be able to identify oceans, continents, polar caps and cloud banks. New Worlds Observer is a powerful concept that can advance our knowledge of rocky worlds around other stars and pave the way for more expansive missions to come.