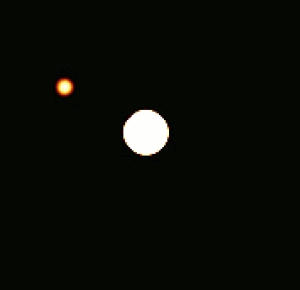 Sometimes nature does what huge telescopes can't manage. Tomorrow night, a careful amateur astronomer may be able to provide information not only about the tiny asteroid 45 Eugenia but also about the two moons that orbit it. At play is an occultation, in which these moons and Eugenia itself helpfully occlude a star for observers in various parts of the southern US and Mexico. Sky & Telescope is reporting the relevant times to be 5:42 to 5:45 UTC on March 9.
Image: Eugenia and its larger moon, Petit-Prince. With a density only 20 percent greater than water, this main belt asteroid is either a loose pile of rubble or an icy object with sparse rocky materials. Petit-Prince orbits it at a radius of 1,190 kilometers. Not shown here is the smaller moon, Petite-Princesse. The animation was assembled from infrared images of the objects. Credit: William Merline (SwRI), Laird Close (ESO), et al., CFHT.
Moons have been discovered in their dozens around asteroids ever since 1994, when the Galileo spacecraft found Dactyl, a satellite of asteroid 243 Ida. But timing observations like these can be helpful in flagging the location of the moons relative to the asteroid they circle, with an accuracy we can't manage with our best telescopes. David Herald (International Occultation Timing Association) points to the possibilities:
"If this event is well observed, the profiles of the components will be resolved at the 1-km level, relative positions being determined to within a few hundred microarcseconds. So I encourage everyone near the predicted paths to join in the group activity and monitor this event! And remember, the uncertainty in the path location could be a good 100 km or more. So even if you are outside the predicted paths, you should still monitor the event."
Another opportunity for amateur astronomy, whose practitioners now have a shot at making observations of such tiny objects as the delightfully named Petit-Prince and Petite-Princesse, the known moons of Eugenia (the smaller of these objects is a mere 6 kilometers across). The necessary details are on the IOTA site, which also points to David Breit's page on the occultation, complete with maps. Even binoculars can track this event, or telescopes with an aperture of at least 2.4 inches and up. CCD cameras, needless to say, would be more than helpful.