As if we didn't have enough trouble getting to the outer Solar System, now comes word that the US inventory of plutonium-238 is diminishing. That's what NASA administrator Mike Griffin told a House appropriations subcommittee this past week, pointing out that after the Mars Science Laboratory launches in 2009, the agency will find itself running out of the plutonium needed to fuel radioisotope power systems. Even New Horizons, on the way to Pluto/Charon, is using Russian plutonium, the periodic purchase of which has been forced by NASA's dwindling supplies.
New Horizons' principal investigator Alan Stern told the committee that beyond the Mars Science Laboratory, NASA probably has enough plutonium on hand or on order to fuel the outer planets flagship mission targeted at 2017 and an interim Discovery class mission scheduled to fly a few years earlier, the latter intended, ironically enough, to test more efficient radioisotope power systems now under development.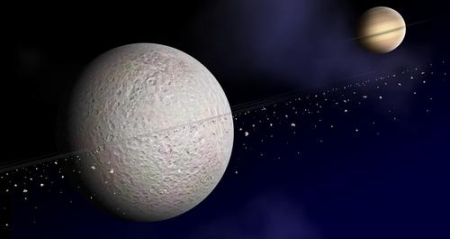 Meanwhile, the outer planets continue to surprise us with findings like the apparent ring system around Saturn's moon Rhea. Or is it just a halo of dust and debris? Geraint Jones (University College, London) is lead author on a paper looking at the Rhea possibilities. In the current issue of Science, Jones and colleagues note that the small moon (some 1500 kilometers in diameter) is circled by a debris disk perhaps 5000 kilometers from end to end, with particles ranging from small pebbles to boulders. Simulations show that such rings could be stable for lengthy periods.
Image: An artist concept of the ring of debris that may orbit Saturn's second-largest moon, Rhea. The suggested disk of solid material is exaggerated in density here for clarity. Due to a decrease in the number of electrons detected by NASA's Cassini spacecraft on either side of the moon, scientists suggest that rings are the likeliest cause of these electrons being blocked before they reach Cassini. Credit: Jet Propulsion Laboratory.
Are we looking at a ring system composed of the remnants of an ancient asteroid or comet collision with the moon? Saturn's lively system shows evidence of other catstrophic impacts of the sort that could have created the needed debris field. And just as we're now looking at asteroids with moons (the Eugenia occultation is imminent — see yesterday's story here), we also deal with the intriguing thought that, as Jones puts it, "…Rhea seems to have some family ties to its ringed parent Saturn."
The paper is Jones et al., "The Dust Halo of Saturn's Largest Icy Moon, Rhea," Science Vol. 319, No. 5868 (7 March 2008), pp. 1380-1384 (abstract). See also this Los Alamos National Laboratory news release.