Tibor Pacher has gone out on a limb. The founder of peregrinus interstellar and an active supporter of interstellar research, the Heidelberg-trained physicist (now a freelance software consultant) has made a wager on the Long Bets site that should raise eyebrows: "The first true interstellar mission, targeted at the closest star to the Sun or even farther, will be launched before or on December 6, 2025 and will be widely supported by the public." Note that no crew is assumed, the vehicle presumably being an unmanned flyby probe. We must also assume it will be targeted at the nearest star system, Alpha Centauri. Even so, to pull off the attempt in a mere seventeen years?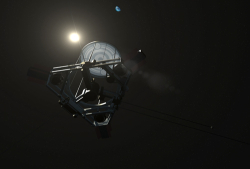 But my friend Tibor is a gadfly as well as an optimist. He knows as well as anyone that the time frame is outrageous, but he wants to inspire discussion and keep people thinking about interstellar issues. In the same spirit, he notes the motivations that exist, from the challenge of a seemingly impossible destination to fears about the future and the need to ensure the survival of our species. All of which is true, but I find the challenge of Tibor's bet irresistible, and have wagered $500 on the Long Bets site that he is wrong. The proceeds would go to the Tau Zero Foundation, so both Tibor and I can win. Come on, Tibor, take the bet.
Image: An early concept for the mission now called Innovative Interstellar Explorer, designed to push several hundred AU from the Sun. I'll buy this idea by 2025, but launching similar hardware to the Centauri stars may take a bit longer. Maybe I'm wrong, but my money is on the table. Credit: NASA/Johns Hopkins University Applied Physics Laboratory.
As to peregrinus interstellar, it is all about the furthering of research and development into interstellar flight, with studies, projects and educational efforts to be supported by private funding. Working with German science writer Michael Müller, Tibor chose the term peregrinus because, in Hungarian (his native language), the word denotes a wandering student. In Roman times, peregrinus referred to wanderers who had no rights as Roman citizens — strangers in a social sense — but the word also has the connotation of 'pilgrim.' Gathering a team of specialists and looking for public support, peregrinus interstellar uses the Internet as its medium in hopes of furthering research and public education, a kind of pilgrimage in its own right and one with potentially celestial rewards.
The community supporting the peregrinus interstellar effort is being built at the PI CLUB site, still under construction, but growing incrementally and reaching out to like-minded people around the globe. Tibor and I have long discussed a renewal of an interstellar bibliography that would gather all work on these topics on a yearly basis and offer a reference for researchers and scholars. Robert Forward and Eugene Mallove produced just such a bibliography many years ago, but just as we currently lack a regular journal of interstellar studies (other than special issues of the Journal of the British Interplanetary Society), we also lack a comprehensive research bibliography. Building such things is essential for furthering the effort to make serious advances in propulsion technology.
The last Forward/Mallove bibliography appeared in JBIS in 1980, including 2700 items in seventy subject categories. Forward was an inveterate organizer — at UAH-Huntsville's Salmon Library, I sifted through copies of his antimatter newsletter, a laborious compilation of all work completed in that field during the interval since the previous newsletter appeared. Forward would gather the resources and circulate the newsletter to several hundred interested physicists, a labor of love that, like the bibliography, saved countless hours of library search time for others.
Today we use online databases for research, enjoying the benefits of computers but often the victim of fragmentary holdings, forcing us to continually widen the search in other databases with still other journals and conference proceedings. Some of these are full-text, some simply consist of abstracts. Even worse, online databases have scant coverage of older materials that can be crucial in developing a sense of how work on a particular topic has progressed over the years. No, we need better, and I'm looking forward to working with people like Tibor as we try to bring interstellar materials up to speed. His work on the PI Library is currently focused on collecting older materials and tweaking the database format that will support a continued and ever updating effort.