Who would have thought the planet Mercury would prove so useful in explaining how solar sails work? The Messenger spacecraft's recent course adjustment maneuvers have proven unnecessary because controllers have been able to use its solar panels creatively, harnessing solar radiation pressure (SRP). And what better place to shake out such methods but on your way to a Sun-drenched planet that moves in an environment where SRP can be eleven times higher than that near Earth?
It may come as a surprise that we are already using solar sailing techniques on operational missions, but Messenger is not the first. In fact, we can go back to another Mercury mission, Mariner 10, which took advantage of the effect of solar photons on its twin solar panels, each about nine feet in length and three feet in width, a highly usable 55 square feet that not only generated power but got the spacecraft out of serious trouble. Launched in 1973, Mariner 10 ran into problems with its stabilizing gyroscopes and, later, with flaking paint on its high-gain antenna. The latter confused the spacecraft's navigational sensors and caused it to lose its lock on the guide star Canopus.
The result: On March 6, 1974, Mariner 10's troubled star-tracker induced a roll that lasted forty minutes, using up vital attitude control gases as the spacecraft tried to stabilize itself. Here's what happened next, as told in the mission report:
On 11 March the spacecraft was not oriented in roll on the star Canopus as it went out of the star sensor's view early in the morning due to the distraction of stray bright particles. However, the spacecraft was stable in its roll attitude because the tilt of Mariner's solar panels is such that solar pressure on the panels created a torque counter to the natural drift in roll of the spacecraft. This stable condition was the result of skilled testing over the weekend to develop various combinations of panel tilt angles. One panel is at 66 deg and the other at 66½ degrees. The Mariner 10 roll attitude can be controlled by judicious tilting of the spacecraft solar panels.
So there you are, solar sailing at work, or at least, solar attitude correction made possible by the transfer of momentum from solar photons hitting those big solar panels. Messenger has done Mariner 10 one better by tilting its solar panels to adjust its trajectory, ensuring that the spacecraft would meet the 200-kilometer Mercury flyby point (it missed by a mere 1.4 kilometers), a targeting feat that Jim McAdams (Johns Hopkins Applied Physics Laboratory) describes as 'spectacular.'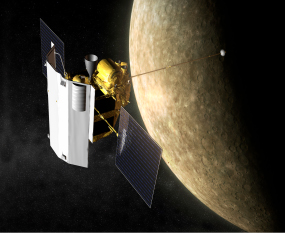 Look for more of the same on Messenger's second Mercury flyby as controllers continue to use solar radiation pressure to control trajectory. In this case, the combination of spacecraft attitude and solar array orientation should continue to reduce the need for trajectory correction maneuvers using more traditional thrusters. By the time Messenger goes into orbit around Mercury in 2011 following gravity assist flybys of Earth, Venus (twice) and Mercury itself (three times), the use of solar radiation pressure should be better understood in a critical operational environment.
Image: Artist's impression of the MErcury Surface, Space ENvironment, GEochemistry, and Ranging (MESSENGER) spacecraft in orbit at Mercury. MESSENGER launched on Aug. 3, 2004, and will begin a year-long orbital study of Mercury in March 2011, materially aided by solar sailing techniques. Credit: NASA/Johns Hopkins University Applied Physics Laboratory/Carnegie Institution of Washington.
We're closing on the second Mercury flyby, which takes place on October 6. The vehicle is now 90.04 million kilometers from the Sun and 140.9 million kilometers from Earth. All of the practical information we can learn about solar sailing from such encounters points to the need to get a working sail into near-Earth space for rigorous testing. With NanoSail-D's duplicate ready to go, let's hope a dedicated space sail can find a ride to orbit to extend the hard won experience of the Messenger mission.