The American Astronomical Society meeting now in session in Long Beach (CA) is already making news. Led by Michael Jura (UCLA), a team of scientists has used Spitzer Space Telescope data to study six white dwarf stars that are surrounded with the remains of asteroids. The assumption here is that these materials are a likely indication of planetary formation in these systems, for they're the same materials that go into making up the Earth and other rocky worlds in our own Solar System.
"If you ground up our asteroids and rocky planets, you would get the same type of dust we are seeing in these star systems," says Jura, who presented the results at the meeting this morning. "This tells us that the stars have asteroids like ours — and therefore could also have rocky planets."
When a star like our Sun reaches the end of its life and becomes a red giant, it consumes any inner planets and perturbs the orbits of the surviving planets and asteroids. A white dwarf is the end result of this stellar expansion and subsequent collapse. Objects wrenched out of their former orbits should, like the asteroids in question, occasionally drift close enough to the star to be pulled apart by its gravity. Such a star, showing the excess infrared signature of a circumstellar disk that is likely caused by the tidal disruption of asteroids, is called a 'polluted' white dwarf, a total of eight of which have now been studied in detail.
All eight of these stars are thought to show the results of asteroid breakup within the last million years. This is a comparatively new study, one enabled by the fact that asteroids destroyed in this way are broken into tiny pieces that are distinctive compared to asteroid dust around younger stars. The dust is subject to study with Spitzer's infrared spectrograph, which shows a glassy silicate mineral similar to olivine, commonly found on Earth. "This is one clue," says Jura, "that the rocky material around these stars has evolved very much like our own."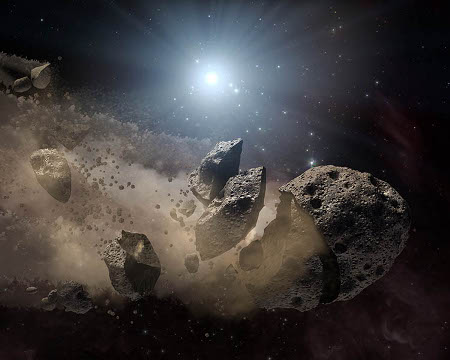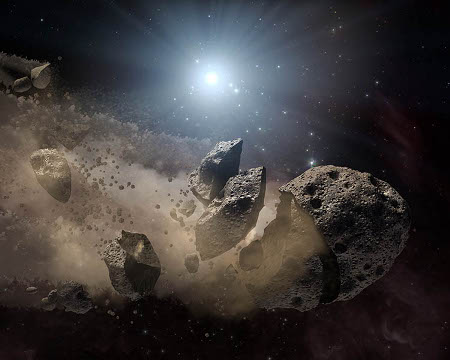 Image: NASA's Spitzer Space Telescope set its infrared eyes upon the dusty remains of shredded asteroids around several dead stars. This artist's concept illustrates one such dead star, or "white dwarf," surrounded by the bits and pieces of a disintegrating asteroid. These observations help astronomers better understand what rocky planets are made of around other stars. Credit: NASA/JPL-Caltech.
Also provocative is the lack of carbon in this debris, similar to the low carbon values found in the asteroids and rocky planets of our Solar System. From the paper on this work:
The rocky material in the inner solar system is carbon deficient. In CI chondrites – the most primitive of meteorites – and in Earth's mantle, n(C)/n(Fe) is 0.9 and 0.009, respectively… Our new data are consistent with the view that extrasolar asteroids are carbon-deficient by a factor of 10 or more… Therefore the building blocks of extrasolar rocky planets have the same substantial carbon deficiency as found in the inner solar system.
Studying the elements present in asteroid dust in visible light should offer up still more information about their relative abundance. Polluted white dwarfs thus offer a window of sorts into how planetary materials are processed around other stars, one that tells us that rocky planet formation should not be unusual elsewhere if in fact materials like these are common in the universe.
The paper is Jura et al., "Six White Dwarfs with Circumstellar Silicates," in press at the Astronomical Journal and available online.