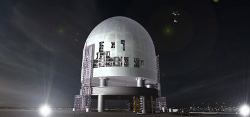 The 91st Carnival of Space offers up Brian Wang's look at Project Orion, with links to photos and videos relating to nuclear pulse propulsion, one of which I embed here from the This is Rocket Science site. For those who like to take potentially workable ideas up to gigantic scales, Brian discusses the Super-Orion, all eight million tons of it, with the capacity to take three million tons of cargo anywhere in the Solar System.
The pusher plate would have reached a diameter of 400 meters. Brian notes the scale:
400 meters in diameter means that the area (footprint) is about 30 football fields. 4 football fields long by 8 football fields wide. The height of the super-orion is about the height of skyscraper like Taipei 101 or Petronas Towers. The base of the Great Pyramid forms a nearly perfect square with about 230 m (756 feet) on a side. When newly completed, the Great Pyramid rose 146.7 m (481.4 ft)—nearly 50 stories high. Super-Orion would have had the volume of about 10 Great Pyramids.
And don't miss Bob Nichol's first post on the Galaxy Zoo blog as the project moves on to its second phase, Galaxy Zoo 2. The new project already has two million galaxy classifications in hand, a remarkable piece of work for this Internet-based program, which uses input from volunteers to classify galaxy types. Says Nichol:
That is staggering for us astronomers as we are usually expect our experiments to take a lot longer. For example, if one wants to use a telescope to study something in the sky, one must write a proposal 6 months in advance, submit it for scrutiny, and then await your allocation of time on a telescope. The process can take nearly a year and then after your night staring at the stars, it can take a further year to analyse the data (assuming it wasn't cloudy!). Only then are we ready to ask questions of the data and test our observations against our original hypothesis written two years ago in a haste!
Yes, and now the Galaxy Zoo is showing how things happen on Internet time. How we continue to use it, and the new uses we find for it as we go along, will be a major story in itself in terms of how we get science done. I like Nichol's comment that asking 'how many galaxies have a bar through the middle?' is the kind of question that would once have required a career to answer, using the services of grad students to do the grunt work. Now we build the data sets in days. The more venerable among us can remember when CCDs seemed like a revolution. Now they're only part of the digital reality of a newly enhanced astrophysics.