The Kepler countdown proceeds and, naturally, will preoccupy many of us during the day. I won't try to keep up with the minutiae, as we're not set up to be a news site at that level of granularity. Go instead to the Kennedy Space Center's countdown page, where you'll find live video feeds, or the Kepler portal. You can track the Kepler feed on Twitter here, although it's been quiet all morning. The launch is scheduled for 10:49 EST (03:49 UTC) and the clock, as they say, is running. NASA TV should kick in about two hours before launch.
If you want a Kepler diversion, try Astrobiology Magazine's story on Ceres as a possible source for life on Earth. What's not to like about yet another candidate for life in the outer Solar System? Even so, this one seems to be quite a stretch.
The story focuses on a theory from Joop Houtkooper (University of Giessen), who sees the 'dwarf planet' (I think that's the right IAU terminology these days) as a potentially living world, a place a bit like Europa, although lacking the immense tidal force exposure that makes the latter so interesting. You may remember Houtkooper as the man who claimed that the Viking landers found life on Mars. In that controversial 2006 work, he re-examined old data from the Viking gas exchange experiment (GEx) and speculated on life-forms using hydrogen peroxide.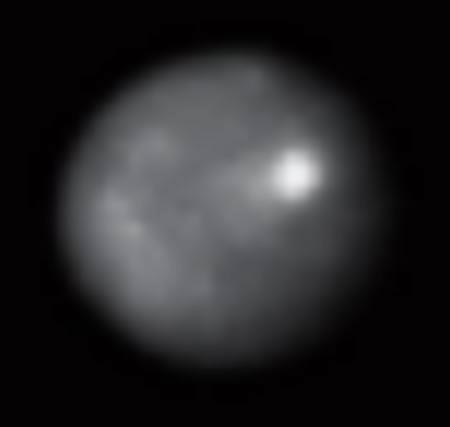 Image: A Hubble image of Ceres. Could the tiny object once have held life? Could it still? Credit: NASA, ESA, J. Parker/SWRI, P. Thomas/Cornell, L. McFadden/Univ. of Maryland.
As to Ceres, the scientist notes that the total volume of water on the tiny object is much greater than can be found in all the oceans of the Earth. "[I]f life is not unique to the Earth and could exist elsewhere, then these icy bodies are the places where life may have originated," says Houtkooper, who points to the survival of Ceres' water during the Late Heavy Bombardment, when asteroid impacts wreaked havoc on our own planet. From the story:
If there was life on Earth before this dangerous era, it was most likely eradicated and had to begin again after much of this cosmic debris had cleared out of the inner solar system. Interestingly, evidence indicates that Ceres avoided being pummeled by devastating impacts during this time. If it had been bombarded, it would have completely and forever lost its water mantle, as its gravitational force is too weak to recapture it. This is probably what happened to the asteroid Vesta, which has a very large impact crater and no water.
So we may be looking at an ocean of liquid water under the ice, a small place with a rocky core that could have the kind of hydrothermal vents that produce primitive organisms. In that case, an ancient survivor of catastrophe could have, through rocks blown off its surface that drifted to Earth, become the source of renewed life here. Let's hope the DAWN mission can tell us more. It reaches Ceres in 2015, at which point we'll learn whether, like Enceladus, Ceres may suddenly swim into focus as a potential home for living organisms.