Claudio Maccone's new book is out, an extension and re-analysis of the material in two earlier titles that examined the author's innovative ideas on deep space systems. Maccone is best known to Centauri Dreams readers as the major proponent of a mission to the Sun's gravitational focus where, at 550 AU and beyond, a spacecraft could take advantage of lensing properties that would allow detailed observations of distant stars and their planets.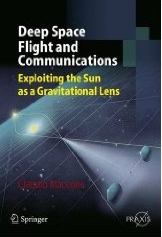 The Italian physicist, formerly associated with Alenia Spazio and now working independently on deep space matters, has developed the idea as an interstellar precursor mission loaded with good science. But in the second part of Deep Space Flight and Communications: Exploiting the Sun as a Gravitational Lens (Springer, 2009), he also examines the mathematics of what is known as the Karhunen-Loève Transform (KLT), analyzing the tools that seem to offer the best choices for optimized communications as we eventually develop star-faring capabilities.
Serious interstellar advocates will want Maccone's work on their shelves, and therein lies the problem. Springer has priced the volume at $139, which essentially targets it toward university libraries and the community of researchers most closely focused on these topics. A tiny press run in assumption of a small audience leads to high prices, which is the same issue we've faced with our Frontiers of Propulsion Science book.
What to do? Several years back, before I had started this site and while I was working on the Centauri Dreams book, I needed a copy of Colin McInnes' book Solar Sailing: Technology, Dynamics and Mission Applications. The price has dropped in the intervening years, but I see that even the paperback version of this Springer title weighs in at a hefty $94.89 on Amazon. Back then, I wound up paying substantially more than that for the hardcover.
All this comes to mind because of yesterday's announcement of the Kindle DX, which seems targeted at least partially toward the textbook market. An electronic reader with a larger screen than the regular Kindle, the DX could offer a way for publishers to lower prices substantially, as small press run books could eventually be distributed without a large fraction of the overhead. Other companies, like Plastic Logic, are also getting ready to move into this space, which is why Amazon moved now.
Much depends upon the attitude of publishers. In the case of an older title, how much has already gone into the publishing process, and how much of a discount is feasible? I see that even the Kindle edition of Solar Sailing sells for $85.40, a price guaranteed to keep McInnes' work out of most hands. In so many ways, the publishing model of today is broken, and we must wonder how long it will take technology to fix it. See Greg Matloff's Deep Space Probes: To the Outer Solar System and Beyond for more proof. It will cost you a cool $169. And note this: "Usually ships within 1 to 2 months."