Do you have any astronomy books you could spare? Larry Klaes has passed along word from Mimi Burbank, a friend from the History of Astonomy e-mail list who lives and works in Uganda. Living in Kasese, Mimi has been involved in educational activities for people living in a rural area with few resources. She's trying to gather books on astronomy from childrens' books up to adult levels. Mimi writes as follows:
The people here are very poor and there are no resources for education, and so I have been asking my friends from all around the world to send books and other things. I have received almost a hundred books for children of all ages, and the little NGO that I work with (BUFO) has achieved extremely high scores on their leaving exams at the end of the school year. They have instituted a Saturday reading hour, during which the older children who can read, read stories out of the books to the younger children who can not yet read, and they all love it. This is the beginning of a 'reading culture'.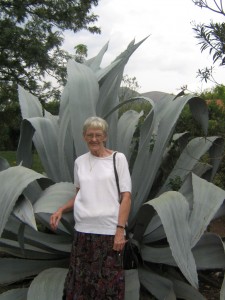 As part of that reading culture, Mimi has been teaching the children about the formation of the universe and our relationship to the cosmos around us. She notes that science is under-taught in this part of the world because of the lack of material and books, but is sharing what she has with the local schools. If you can help with any book donations, you can send them to Mimi at:
Mimi Burbank
c/o South Rwenzori Diocese
PO Box 142
Kasese, Uganda
East Africa
And she adds: "You don't need to ship a huge shipment (very expensive) – for small packages the cost is minimal, and each and every gift is so very much appreciated. Thank goodness, books have a flat rate and a cheaper rate!"
Mimi's own Web page is here, with links to the local groups she works with. Any donations would be received with profound gratitude.