My first glimpse of Ganymede ran like this:
Three dead men walked across the face of hell. Their feet groped past frozen rock, now and then they stumbled in the wan light, and always they heard the thin, bitter mumble of wind and felt the cold gnawing at their flesh. Around them there was death, naked stone reaching for a cruel sky of stars, a lean, poisonous whirl of snow which was not snow, that whipped about them and then lay still to crunch under their tread. Jupiter was low in the south, a great shield which glowed amber.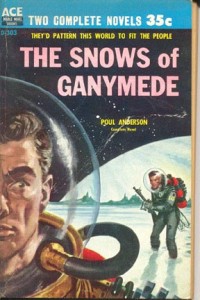 That's not today's Ganymede, but a mid-1950's version as seen in Poul Anderson's The Snows of Ganymede (Ace Books, as part of an Ace Double that included Anderson's War of the Wing Men, otherwise known as "The Man Who Counts"). I bought this off a newsstand in St. Louis and remember reading it while waiting for a sandwich to arrive at a lunch counter just off Clayton Rd. I would have been something like nine years old.
That memory made the recent news about mapping Ganymede irresistible. It's not the place Anderson imagined, but then just count how many other surprises we've had from our deep space probes. Voyager and Galileo data have come together to hand us a view of Ganymede that tells us where our imaginations strayed, but as we saw in the rest of the Jovian moon system, Ganymede was hardly the first place that didn't fit what we expected. Think of that billiard-ball smooth face of Europa, and the startling volcanoes of Io.
What we have here is the first global geological map of Ganymede, the largest satellite in the Solar System (it's larger than Titan, and for that matter, the planet Mercury). This is a world 5262 kilometers in diameter, the only satellite known to have a magnetosphere. The map displays geological features that help us understand how the moon has evolved over the years, not only internally but also through interactions with other Galilean satellites and in terms of objects striking its surface.
The team, led by Wes Patterson (Johns Hopkins University Applied Physics Laboratory) combined low-resolution photos from Voyager with high-resolution Galileo imagery to create what we see below: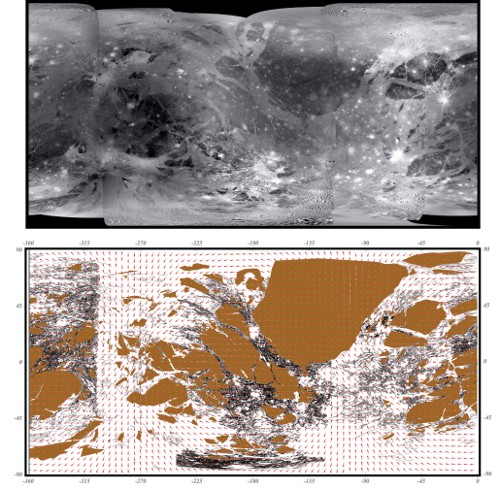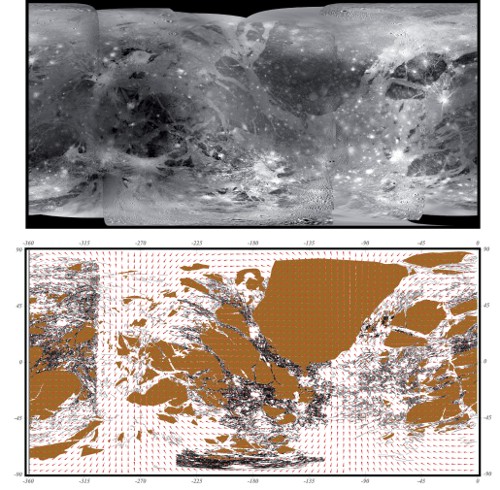 Image: (top) A global mosaic of Jupiter's moon Ganymede, constructed from the best images collected during flybys of the Voyager 1, Voyager 2, and Galileo spacecraft.
(bottom) A few layers of the geologic map of Ganymede, showing the boundaries between light terrain (white) and dark terrain (brown), and the massive number of tectonic features in the light terrain (black lines). The map is being used to analyze stress fields that could have been responsible for ripping apart the surface of Ganymede in the past (red arrows). Credit: Wes Patterson/JHUAPL.
Here's Patterson on the significance of this result:
By mapping the entirety of Ganymede's surface, we can more accurately address scientific questions regarding the formation and evolution of this truly unique moon. Work done using the map by collaborator Geoff Collins at Wheaton College, for instance, has shown that vast swaths of grooved terrain covering the surface of the satellite formed in a specific sequence. The details of this sequence tell us something about the forces that must have been necessary to form those swaths.
If we do get to the Europa Jupiter System Mission, now in the conceptualizing and planning stage at NASA and ESA, we'll be looking at a Ganymede orbiter as well as one around Europa. This early geological map will clearly be of use in that scenario, helping scientists characterize the moon in detail. The work was presented at the European Planetary Science Congress in Potsdam on the 16th.
So now we have the third completed map of a Moon, the first two being our own Moon and the second Callisto. As to The Snows of Ganymede, it's well worth a read even today, at least for those of us who love most of Anderson's work, unraveling as it does political intrigue and mystery on the distant Moon. It's also hard to find, appearing (to my knowledge) only in the Ace venue and in an earlier issue of Startling Stories (Winter, 1955). Worth seeking out if you happen to be in a used bookstore, that rapidly disappearing artifact of an earlier time.