I notice that the Planetary Society is doing some fundraising for its LightSail program, in this case looking for money to help build a spare for the LightSail craft. Lou Friedman puts it this way in a recent mailing: "We need to build a spare to insure our plans. It's the prudent move; much cheaper than purchasing insurance and building an entire new back-up craft, as long as we do it now, while the first spacecraft is being built." The cost of a back-up craft during this window is roughly $200,000.
Some basics about LightSail-1: Its mylar sails are 4.5 microns thick, the thinnest ever made for spaceflight. When they deploy, they'll extend to cover 32 square meters, and the four sails should throw quite a reflection, acting like mirrors that would be visible from Earth and may appear brighter than any visible star or planet. The vehicle is to be formed from three CubeSat spacecraft, forming a 'bus' about the size of a shoebox that weighs about 4.5 kilograms. We've covered the LightSail story before on Centauri Dreams, but do read the Planetary Society's backgrounder on the mission.
Meanwhile, sneaking up on us almost surrepetitiously, comes the news that NASA is in the final stages for the launch of NanoSail-D, designed to be the first NASA sail deployed in low-Earth orbit. One goal of the NanoSail-D project is to demonstrate the ability to pack and deploy a large sail from a highly compacted volume. The Japanese IKAROS sail has proven the sail concept, but much work lies ahead in optimizing deployment strategies not only for sails but future thin film sensor or solar arrays.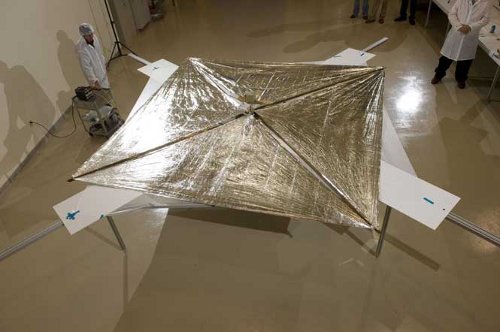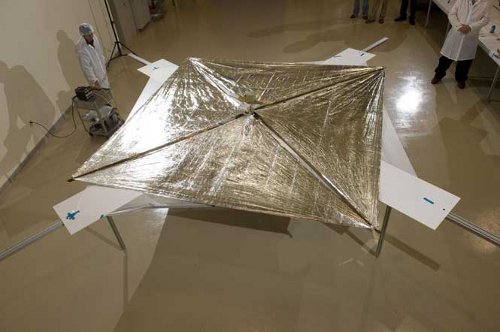 Image: NanoSail-D deployment: Fully deployed, the sail area measures 107 square feet. It is comprised of four, triangular membranes supported by thin metal tape booms. Full deployment takes just 5 seconds. Credit: NASA/MSFC/D. Higginbotham
Dean Alhorn, principal investigator for the mission at MSFC, says the sail, made of a polymer called CP1 that is no thicker than single-ply tissue paper, will be wrapped around a spindle before being packed into a container smaller than a loaf of bread. Deployment will involve four booms that should unfurl the sail within five seconds. Adds Alhorn:
"The deployment works in the exact opposite way of carpenter's measuring tape. With a measuring tape, you pull it out, which winds up a spring, and when you let it go it is quickly pulled back in. With NanoSail-D, we wind up the booms around the center spindle. Those wound-up booms act like the spring. Approximately seven days after launch, it deploys the sail off the center spindle."
You'll recall the earlier NanoSail-D, which perished in a launch attempt back in 2008 and led to a call in these pages for the spare to be launched on a future flight. This is that backup, one that has been tweaked and refined for this mission and committed to a 17-week flight in a circular orbit 650 kilometers above the Earth (although the actual flight time may range from 70 to 120 days). In addition to what we'll learn about sail deployment, the de-orbiting of NanoSail-D as the result of atmospheric drag will offer information about future methods for returning old satellites to Earth. And down the road, NanoSail-D points to a next generation design called FeatherSail.
Note this about NanoSail-D: Even at 650 kilometers out, drag effects may overpower the propulsive power of solar photons, so the deployment operation is clearly the prime motivator for the mission, as well as the de-orbiting studies. Nonetheless, if we get a successful deployment, it will point the way to future, higher-altitude missions, and serve as another demonstration of the fact that solar sailing technology is rapidly maturing, even as we await the launch of the first of the Planetary Society's LightSails.
Launch is now scheduled for November 19 from Kodiak Island (Alaska) aboard a Minotaur 4 rocket (and thanks to Roman Kezerashvili for the reminder). The spacecraft will be part of the payload aboard the Fast, Affordable Science and Technology Satellite (FASTSAT). Among the several sites to keep an eye on, NASA's Small Satellite Missions page should have updates and a Twitter feed is available @NanoSailD. The NanoSailD mission dashboard is scheduled to go operational once the satellite launches and SpaceFlight Now will be offering live video of the launch.