Discovery News now offers fully ten articles on Project Icarus and its background, written by the Icarus team and assembled on the site by Ian O'Neill. I was startled to realize how the list had grown, but it reminds me to point periodically to this collection, because Icarus — the attempt to re-design the Project Daedalus starship study of the 1970s — is a work very much in progress. Icarus is a joint project of the Tau Zero Foundation and the British Interplanetary Society. The latest article on the team's work is by physicist Andreas Tziolas, who in addition to being a frequent Centauri Dreams contributor is also secondary propulsion lead for the Icarus effort.
It's no surprise that the biggest issue surrounding an interstellar probe is the propulsion system, which for Icarus means fusion, a method offering as much as a million times better performance than our current chemical rocket technologies, if we can ever figure out just how to harness it. The Icarus team chose fusion deliberately and with full knowledge that alternatives were out there. Fusion, after all, was the propulsion method of choice for the Daedalus designers, and a major part of the Icarus effort has been to take an existing design and look at it in today's terms. Have a look at Using Fusion to Propel an Interstellar Probe for more on this design choice.
Breakthroughs vs Evolution
We'd all like to see the kind of sudden breakthrough that would in a single stroke put deep space in range, and perhaps one day something like this will happen. But the gap between what we can do with today's technology and what we'd like to achieve with such a breakthrough is a daunting one, wide enough that it tends to shut down active research. What Icarus is all about is the idea that we need to do the research anyway, that a series of designs can get better over time, and that each time we run the new iteration, we learn more about where we need to go.
Tziolas' latest contribution to the Icarus story is his take on secondary propulsion systems, technologies that would come into play both as the Icarus craft is built and when it arrives in its destination solar system. And as he notes, what is considered secondary for the Icarus mission is essentially what is primary for all contemporary space missions, a fact that highlights how far we have to go to mount a true interstellar effort. Solar sails, for example, might be the technology to use when a craft like Icarus deploys small probes to study its target system. And sails are one among a host of options that might help in spacecraft construction:
…solar sails may not be a good option for accelerating what would be a very massive Icarus to another star, but offer unique advantages for exploring the target solar system with probes. The advances in ion (NASA's NEXT and NSTAR) and electromagnetic thrusters (VASIMR) in recent years seem to indicate a path towards some new and exciting propulsion technologies being developed. Some of these systems might be used on the Icarus interstellar spacecraft itself, and others may play supporting roles. For example, the technologies necessary for the spacecraft construction and fuel gathering stages of the mission.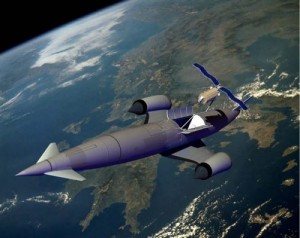 We know where chemical rockets are at their most useful, and that is in scenarios demanding high thrust. Building massive and complex objects in space demands a much improved way of getting to low-Earth orbit, almost certainly a vehicle that can not only make frequent flights, but operate as a single-stage-to-orbit craft. Thus Tziolas' interest in Skylon, an unpiloted craft from the British firm Reaction Engines Ltd. that is envisioned as operating in a fleet of vehicles equipped with air-breathing jet engines to assist them in reaching orbit in a single stage.
Image: The unpiloted Skylon is one possibility for getting frequent payloads to low-Earth orbit. Credit: Adrian Mann.
SpaceX's plans for a Falcon Heavy, based on the company's existing Falcon 9 booster but capable of launching 117,000 pounds into orbit (that's twice the capacity of the Space Shuttle) point in the same direction. The original Daedalus design was for a craft weighing some 50,000 tons, almost all of which were comprised of the Helium-3 essential for its fusion engines. Before any interstellar craft can get built, we have to have the kind of space-based infrastructure that will allow us to move within the Solar System (Daedalus envisioned mining a gas giant's atmosphere for fuel — Icarus has not yet made a decision on a fuel source). And the ability to launch heavy loads frequently is the biggest piece missing in the infrastructure puzzle.
Fusing Futuristic Ideas
The effort to design a craft that is well beyond our current capabilities leads us to re-examine and perhaps combine developing technologies. We've begun to fly solar sail demonstrator missions, and we have begun to consider whether the solar wind could drive a large magnetic sail, a device already known as a magsail. Beyond that, we have laboratory work suggesting that beamed propulsion using laser or charged particles for acceleration is possible. Tziolas wonders how we might draw from such technologies to assist a future interstellar probe:
Combining these two ideas may lead to an advanced space tug, responsible for pushing spacecraft equipped with magsails into their orbits. Perhaps the Icarus could serve as the beam generator which pushes its planetary explorer probes into place. Alternatively Icarus could use an extremely large magnetic sail to help decelerate, once within reach of the target star's solar wind or magnetosphere.
Such musings offer a futuristic roadmap of ideas to examine as we ponder propulsion methods that are interstellar in implication and remain within the bounds of known physics. We need to push current technologies hard. Icarus project leader Richard Obousy made the case for fusion on Seth Shostak's radio show recently, where he noted 'To use rocket fuel to reach the stars in a time-frame consistent with a human lifetime is completely inconceivable." It's a good interview (starting at 41 minutes 35 seconds into the main show), one in which Seth probes Richard for details about the new paradigm Icarus will need to surmount chemical rocket limitations.