Given the budgetary situation, it's nice to know we can still get to the outer Solar System without the cost of a flagship-class mission like Cassini, which weighed in at 3.26 billion — that included $1.4 billion for pre-launch development, $704 million for mission operations, $54 million for tracking and $422 million for the launch vehicle. Now Johns Hopkins Applied Physics Laboratory (JHU/APL) is moving forward on a much cheaper mission concept to reach Titan, one of the three proposals selected as candidates for an upcoming NASA Discovery Program mission.
We're now down to three proposals for this mission out of an original 28 submitted last summer, with each team receiving $3 million to develop a still more detailed concept study. The Titan mission is just what the doctor ordered to perk up your ailing sense of wonder, intended to deliver a capsule called Titan Mare Explorer (TiME) that would land in and explore one of the large seas that Cassini has helped us map. The concept is clearly workable, and it will be cost-capped at $425 million, although this doesn't cover the funding for the launch vehicle.
Remember that the NEAR mission, the first to orbit and land on an asteroid, was a JHU/APL creation — this was the first of the Discovery-class missions — and so is MESSENGER, now in orbit around Mercury since March. I've mentioned many times in these pages my interest in the Innovative Interstellar Explorer concept that has been developed there over the years in the hands of Ralph McNutt, with original work done through Phase I and II grants from NASA's Institute for Advanced Concepts. And I certainly don't want to forget the ongoing flight of New Horizons, designed and built at JHU/APL and tallying mission costs in the range of $700 million.
But I don't want to focus solely on money here, because the Titan Mare Explorer, if chosen for flight, is the sort of breathtaking mission we've been hoping to see delivered to Titan, a robotic boat that would be parachuted into Ligeia Mare, the second largest of Titan's northern seas, for a 96-day mission, measuring the moon's organic molecules and analyzing its chemistry, not to mention producing images of sea and sky on Titan that would surely be unforgetable. The plan is to launch between 2016 and 2018 to arrive before winter sets in at the moon's north pole.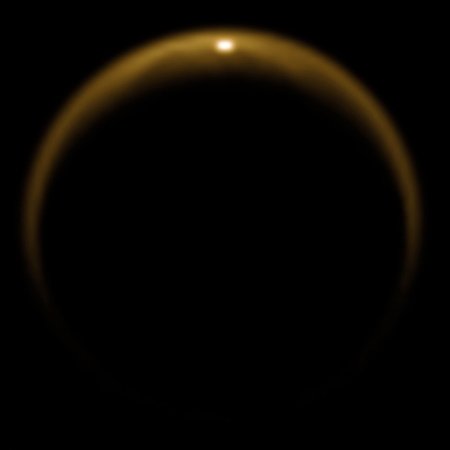 Image: Sunlight reflects off a Titan lake in this image captured by NASA's Cassini spacecraft. The Titan Mare Explorer (TiME), a candidate for NASA's next Discovery-class mission, would perform the first direct inspection of an ocean environment beyond Earth by landing in, and floating on, a large methane-ethane sea on the cloudy, complex moon of Saturn. Credit: NASA.
Here I want to quote TiME project lead scientist Ellen Stofan (Proxemy Research Gaithersburg, MD), who was recently interviewed by Ian O'Neill for Discovery News:
"Titan is often referred to as a pre-biotic world. It actually has all the sort of building block chemicals that were present on Earth when life evolved. The idea for Titan is that with those very, very cold temperatures and with water being frozen solid, could life actually develop, or is it just too cold so those chemical reactions just can't get going?"
The two other Discovery Program possibilities are a mission to study the Martian interior (Geophysical Monitoring Station) and a cometary lander (Comet Hopper). We'll have another review of all three studies in 2012, after which NASA will select the winner. In the meantime, it's also interesting to see three proposals selected for technology development — this means selected teams will receive funding to bring their technologies to a higher readiness level. All three of these are interesting in their own right for long-term development:
Whipple would use a technique called blind occultation to monitor tens of thousands of stars for signs of outer system objects, helping us inventory icy chunks at the system's edge.
NEOCam would study Near-Earth Objects through a new telescope designed for infrared measurements that help us understand small bodies crossing the Earth's orbit.
Primitive Material Explorer (PriME) would use a mass spectrometer to measure the chemical composition of a comet and explore the role of comets in delivering volatiles to Earth.