I had been intending to cover recent news about Saturn in an upcoming post anyway, but the images below sealed the deal. They're further wonders from Cassini, pictures of a massive storm in Saturn's northern hemisphere that encircles the planet. First detected on December 5, 2010, the storm has been on the rampage ever since at about 35 degrees north latitude. It covers approximately 4 billion square kilometers. Cassini's radio and plasma wave science instrument has been showing a lightning flash rate 10 times that of any other storms the spacecraft has monitored since its arrival in Saturn orbit back in 2004. The flashes were so frequent at one point that Cassini could no longer resolve individual strokes, although the intensity has now eased.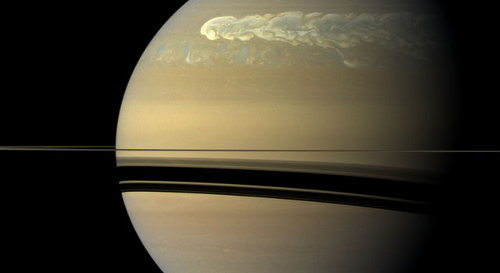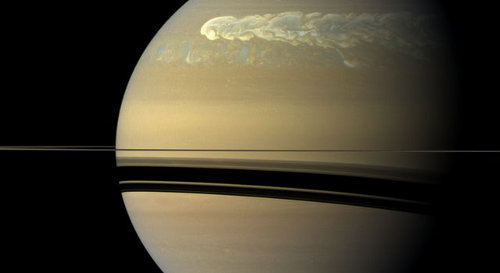 Image: The huge storm churning through the atmosphere in Saturn's northern hemisphere, seen here in a true-color view from NASA's Cassini spacecraft. This view looks toward the sunlit side of the rings from just above the ring plane. The image, captured on Feb. 25, 2011, was taken about 12 weeks after the storm began, and the clouds by this time had formed a tail that wrapped around the planet. Some of the clouds moved south and got caught up in a current that flows to the east (to the right) relative to the storm head. This tail, which appears as slightly blue clouds south and west (left) of the storm head, can be seen encountering the storm head in this view. Credit: NASA/JPL-Caltech/SSI.
It's interesting to realize that the shadow cast by Saturn's rings has strong effects on the planet's weather. This storm is 500 times the area of the largest southern hemisphere storms Cassini has seen on its mission, and scientists are suggesting that we are now seeing such powerful storms in the northern hemisphere because of the change of seasons after the planet's 2009 equinox. At present, Saturn is entering early northern spring, making this a relatively early storm. In previous years, Earth-based astronomers as well as Hubble have observed huge storms called 'Great White Spots' in late northern summer, some of which were as large as this one. Unfortunately, we didn't have Cassini or Voyager on the scene for previous storms of this magnitude.
"This storm is thrilling because it shows how shifting seasons and solar illumination can dramatically stir up the weather on Saturn," said Georg Fischer, a radio and plasma wave science team member at the Austrian Academy of Sciences in Graz. "We have been observing storms on Saturn for almost seven years, so tracking a storm so different from the others has put us at the edge of our seats."
We're looking at a storm that covers an area eight times the surface area of Earth. Since its arrival, Cassini has detected 10 lightning storms on Saturn, found in an area of the southern hemisphere now known as 'Storm Alley.' We're now getting a glimpse of just how lively a Saturnian spring can be as the Sun's illumination of the hemispheres changes. The storm is generating huge amounts of radio noise from lightning. At issue is the sudden release of such energies, unlike what we see on Jupiter or, for that matter, the Earth, where numerous storms are active at any given moment. In sharp contrast, Saturn seems quiet for years and then erupts into frenzied activity.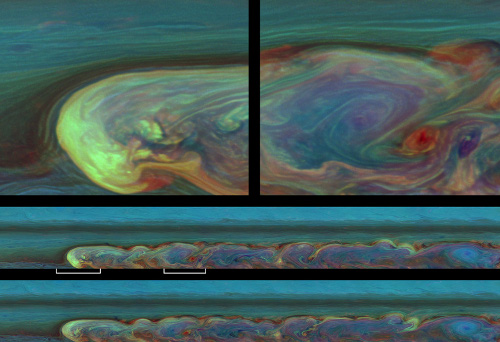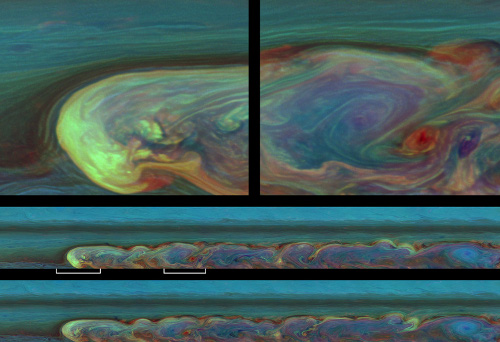 Image: False-color images from Cassini showing clouds at different altitudes. Clouds that appear blue here are the highest and are semitransparent, or optically thin. Those that are yellow and white are optically thick clouds at high altitudes. Those shown green are intermediate clouds. Red and brown colors are clouds at low altitude unobscured by high clouds, and the deep blue color is a thin haze with no clouds below. The base of the clouds, where lightning is generated, is probably in the water cloud layer of Saturn's atmosphere. The storm clouds are likely made out of water ice covered by crystallized ammonia. Taken about 11 hours — or one Saturn day — apart, the two mosaics in the lower half of this image product consist of 84 images each. The mosaic in the middle was taken earlier than the mosaic at the bottom. Both mosaics were captured on Feb. 26, 2011, and each of the two batches of images was taken over about 4.5 hours. Credit: NASA/JPL-Caltech/Space Science Institute.
The storm on Saturn made the cover of Nature this week. The papers involved are Sánchez-Lavega et al., "Deep winds beneath Saturn's upper clouds from a seasonal long-lived planetary-scale storm," Nature 475 (7 July 2011), 71-74 (abstract) and Fischer et al., "A giant thunderstorm on Saturn," Nature 475 (7 July 2011), 75-77 (abstract).