Back in August I mentioned NASA's solar sail plans beyond NanoSail-D in the context of a larger survey of sail designs and experimentation. It's great to see multiple sail projects in motion, and before I return to NASA I should mention not only the Planetary Society's ongoing sail effort but the CubeSat sail being built by a consortium from the University of Surrey and aerospace firm Astrium, an aerospace subsidiary of the European Aeronautic Defence and Space Company (EADS). Then there's the German space agency DLR and its Gossamer sails, experimental designs being worked on with the European Space Agency. Surely energized by the success of the Japanese IKAROS sail, work on this fledgeling space technology is beginning to ramp up.
NASA's next step in sail design builds upon the earlier work the agency performed with aerospace contractor L'Garde Inc., of Tustin, California, which deployed and tested a 20m X 20m sail at the agency's Plumbrook facility in Ohio. The plan is to build a solar sail demonstration mission that will create a sail quadruple the size of the Plumbrook sail and conduct operations in space to demonstrate attitude control as well as passive stability and trim adjustment using beam-tip vanes. The demonstrator mission will also allow the craft to execute basic navigation operations.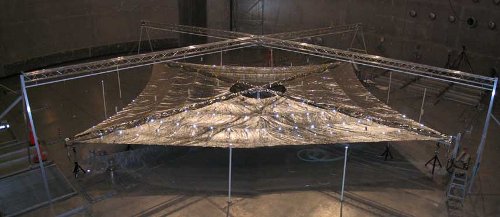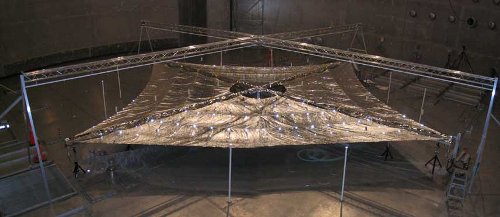 Image: A four-quadrant solar sail system sits fully deployed in a 100-foot-diameter vacuum chamber at NASA's Glenn Research Center Plum Brook Station in Sandusky, Ohio. NASA's solar sail propulsion team at the Marshall Space Flight Center in Huntsville, Ala., and its industry partner, L'Garde, Inc., of Tustin, Calif., successfully deployed the solar sail system during testing at the Plum Brook facility in early July 2004. The tests included temperatures as cold as minus 112 degrees Fahrenheit to simulate conditions of open space. Credit: NASA/L'Garde, Inc.
Technology demonstrator missions like this one provide near-term spacecraft that can show the feasibility of new technologies, and that means flight hardware tested in space. The plan is for the sail mission to piggyback with other payloads aboard a commercially available launch vehicle, with launch scheduled for 2015 or 2016, and a one to two year period of spacecraft operations and analysis. NASA talks about future solar sail capabilities in the realm of satellite deorbiting (essentially using the sail as part of a satellite payload for this purpose) and station-keeping, allowing 'pole-sitter' sails, for example, for geosynchronous high-latitude operations.
The final purpose, as noted in this NASA news release, is to develop sails for deep space propulsion, but we'll need to build up a sail capability much closer to home before we can think of committing serious payloads for these purposes. We'll doubtless see attempts at something like GeoStorm, which would place solar storm warning satellites at positions between the Earth and the Sun to increase our warning time for solar flares. The demonstrator sail is a precursor to all these applications, and NASA's work with L'Garde and the National Oceanic and Atmospheric Administration should be seen as part of firming up sail techniques as we aim for bigger missions.
Another part of that process would be to move into space-based experimentation on microwave beaming. Back when the Planetary Society was planning for the ill-fated Cosmos 1 sail (lost evidently without achieving orbit in a booster accident), the plans included an attempt to measure the effect of microwaves on the sail using the Goldstone dish. It would be heartening to see this kind of thinking continued in the next round of missions. My own take is that beamed sails offer huge advantages for deep space, including not just the fact that the spacecraft does not carry fuel onboard but that the physics of microwave beaming to a sail are comparatively well understood. More on beamed sail concepts soon as we look at some of Jim Benford's thoughts on the idea.