I hope everyone is having a happy holiday season and looking forward to the upcoming New Year's festivities. In the intervening window, let's look at the outer Solar System. No other spacecraft has ever come as close to Pluto as New Horizons now has, already halfway between the Earth and the distant dwarf planet. It's also worth mentioning that New Horizons is only the fifth spacecraft to venture so deep into the Solar System, following the two Voyagers and the Pioneer spacecraft. July of 2015 will be an extraordinary time as we wait for data return from the mission and begin to find answers to some of the many questions that await us there.
But studies from closer to home are continuing to reveal more about Pluto/Charon as well. The Cosmic Origins Spectrograph aboard the Hubble Space Telescope has found evidence for complex hydrocarbon and/or nitrile molecules on the planetary surface. Alan Stern, principal investigator for New Horizons, is behind the study, whose work was recently published in the Astronomical Journal. It's assumed that what we're seeing on Pluto's surface is the result of interactions between sunlight or cosmic rays with methane, carbon monoxide and nitrogen ices.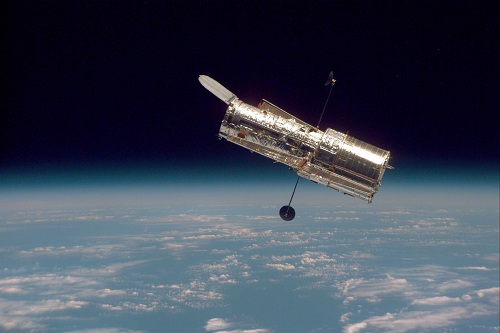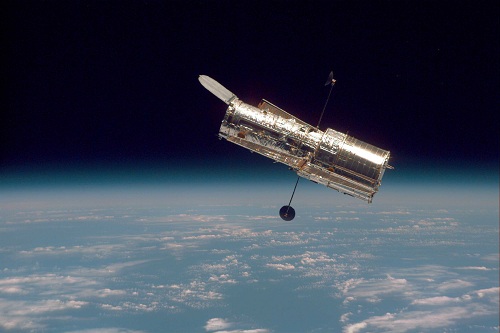 Image: The Cosmic Origins Spectrograph aboard NASA's Hubble Space Telescope recently discovered a strong ultraviolet-wavelength absorber on Pluto's surface. Credit: NASA/STScI.
"This is an exciting finding because complex Plutonian hydrocarbons and other molecules that could be responsible for the ultraviolet spectral features we found with Hubble may, among other things, be responsible for giving Pluto its ruddy color," said Stern.
Also more than a little interesting in light of New Horizons' upcoming encounter is the fact that the team found evidence for changes in Pluto's ultraviolet spectrum as compared to earlier Hubble measurements from the 1990s. Whether this is the result of differing terrains being observed in the two studies or surface changes related to atmospheric pressure variations during the time period involved is not known. New Horizons, it's hoped, will tell us much more.
The paper is Stern et al., "First Ultraviolet Reflectance Spectra of Pluto and Charon by the Hubble Space Telescope Cosmic Origins Spectrograph: Detection of Absorption Features and Evidence for Temporal Change," Astronomical Journal Vol. 143, No., 1 (9 December 2011), p. 22. Abstract available.