I've been thinking about solar sails these past few days, a topic that inevitably invokes Arthur Holly Compton, who first demonstrated that x-rays have particle-like properties. Compton's experiments in 1923 produced a body of work for which he would receive the Nobel Prize in Physics later that decade. Thanks to him we learned that while photons have no mass, they do have momentum, a useful fact for space exploration in that momentum can be transferred to a thin reflective sail, like the Japanese IKAROS that was successfully launched and tested in space in 2010. No question that the force is tiny — a sail would have to be a square mile in area to feel just five pounds of force at the Earth's distance from the Sun.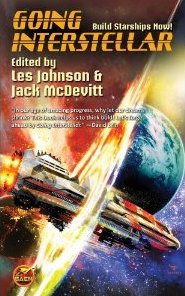 The beauty of the sail, of course, is that it can keep producing thrust as long as it's in sunlight. But how to increase the thrust? In an essay in his new book Going Interstellar (edited with Jack McDevitt and just out from Baen), Les Johnson notes that if we wanted to equal the thrust produced by one Space Shuttle engine, we would need a sail of one hundred thousand square miles in area, which works out to the surface area of Alabama and Mississippi combined. Working at Marshall Space Flight Center in Huntsville, Johnson knows the terrain of which he speaks. He also knows that we're not about to start producing solar sails of this magnitude any time soon.
The alternative is to take advantage of the inverse square law, which says that moving the sail twice as far from its light source will result in its receiving four times less illumination. A similar move to four times the distance drops the illumination to one-sixteenth of its former value. The flip side of this is that reducing the distance to one-half its former value results in four times the force, and so on. You can see where this is heading: Johnson is building us up for a close solar pass, what sail experts Gregory and James Benford call a 'Sundiver' maneuver. Get your sail to swing close enough to the Sun and you get quite a push.
It's interesting to speculate on just how big that push could be. Here we can take advantage of Gregory Matloff and Roman Kezerashvili (New York City College of Technology, CUNY), who have been massaging the numbers on a sail one mile in diameter moving to within nine million miles of the Sun. They find that a sail of this class could achieve a Solar System exit velocity of 250 miles per second. Johnson talks about all this in miles per second but let's switch to kilometers, which is my normal practice here. 250 miles per second works out to about 400 kilometers per second, which we can usefully compare to Voyager 1's 17 km/sec, as Johnson does:
A craft traveling this fast would pass the Earth in four days, Jupiter in twenty-one days and reach the Alpha Centauri system in just over three thousand years. By comparison, the fastest rocket we've ever sent into space won't cover the distance to the Alpha Centauri system for another seventy-four thousand years! By increasing the sail size and keeping the payload mass the same, we can see an engineering path to building a sail that could cover this immense distance in about a thousand years. For you and me, there isn't much difference between a thousand years and seventy-four thousand years. But in the lifetime of civilizations, the difference between these numbers is significant.
The difference is history. Go back 74,000 years and you are in the realm of archaeology, looking for the remains of nomadic, pre-literate cultures. Go back a thousand years and you are dealing with recorded human history. Ralph McNutt, who is doing such splendid work on interstellar concepts with the Innovative Interstellar Explorer design, once in a NIAC study worked out a trajectory involving a close solar pass that would get a payload to Epsilon Eridani in 3500 years, which he noted as the lifetime of the Egyptian empire. A 1400 year mission to Alpha Centauri would get the payload there in a time period as long as some buildings — the Hagia Sophia in Constantinople and the Pantheon in Rome — have been maintained.
And what would happen to the crew in that amount of time? One solution is the 'generation ship' that sees the birth and death of numerous generations on its way to the stars. But in a short story Johnson wrote for the same Going Interstellar volume, the author speculates about another method. The crewmembers of the long-haul starship in "Choice" are put into suspended animation, their minds kept active through hundreds of years of virtual reality simulations, just as their bodies are occasionally adjusted and massaged by intelligent machinery.
Thus the experience of the story's protagonist, Peter Goss:
He, and every member of the crew, had programmed into the computer system their general wishes for the type of virtual reality scenarios they'd wanted to experience during the long voyage. The liquigel and the regular neuromuscular stimulation that went with it had kept their bodies alive and in peak condition while they slept. The VR scenarios had done the same for their minds and right now Goss wished he were one of the crew, blissfully unaware of the impending crisis, living out some extended adventure in a dream-like stupor. But it was a fleeting thought. He'd always preferred reality to the VR sims — that was one of the reasons he'd volunteered for the trip to Epsilon Eridani. Goss had to get away from the existential existence that was slowly creeping across the Earth and sapping the lifeblood out of the people there.
Missions of vast duration pose problems we haven't even thought of, and the one Johnson dreamed up is a beauty. If, having experienced your choice among thousands of available VR simulations for a thousand years, you realized you were approaching your destination, would you really want the journey to end? After all, being awakened to land on a planet would put you back on your normal biological clock. No more simulations stretching out before you with no end in sight, but rather a far shorter and physically demanding existence creating a colony on what might be a difficult and chancy world. Obviously, I'm not going to give away the ending.
Going Interstellar is an intriguing volume. I've only read the two Johnson essays and another by Greg Matloff on antimatter propulsion, but you'll find the major ideas for getting us to the stars here, though the editors are quick to note that they cover only the propulsion options open to us with known physics. You'll find no warp drives or hyperspace vehicles in these pages. You will get, in addition to the work of scientists, stories by science fiction writers like Ben Bova, Michael Bishop and Mike Resnick. The combination reminds me of Arthur C. Clarke's Operation Solar Sail (1990), which took on every aspect of sail traveling through both a fictional and non-fictional perspective.
It's a good combination when you're offering up a potpourri of current thinking on the intractable issue of starflight. We'll be coming back to this book as I get deeper into it.