The continued explorations of our two Voyagers have earned these tough spacecraft the right to be considered an interstellar mission, which is how NASA now describes their journeys. Neither will come anywhere near another star for tens of thousands of years, but in this context 'interstellar' means putting a payload with data return into true interstellar space. Right now the Voyagers are still within the heliosphere, that great bubble opened out around our system by the Sun's solar wind, and the signs are multiplying that a transition is soon to occur.
Three measurements are going to mark the boundary crossing, and we're seeing that two out of the three are in a state of rapid change. This JPL news release points out that on July 28, Voyager 1's cosmic ray instrument showed a jump of five percent in the level of galactic cosmic rays the craft was encountering. In the second half of that same day, the level of lower-energy particles flowing from inside the Solar System dropped by half. Both measurements had recovered to their former state within three days, but you can see that Voyager 1 is moving through the chop and froth that marks a boundary somewhere up ahead.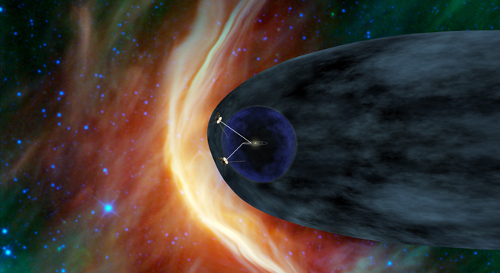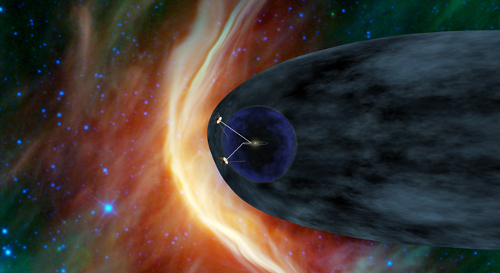 Image: The Voyager interstellar mission, pushing up against the edge of the Solar System. Credit: NASA.
The third factor is the direction of the magnetic field, which researchers expect will change direction when true interstellar space is encountered. We should have an early analysis of the latest magnetic field readings some time in the next month. At some point, all three indicators are going to switch over to a more definitive state, but even then we'll have to see how long the back-and-forth continues in what could be a ragged boundary area.
Noting the gradual increase of high-energy cosmic rays over a period of years and the corresponding drop in lower-energy particles, Voyager project scientist Ed Stone can only say: "The increase and the decrease are sharper than we've seen before, but that's also what we said about the May data. The data are changing in ways that we didn't expect, but Voyager has always surprised us with new discoveries." In any case, the flow of lower-energy particles is expected to drop close to zero when the final transition occurs.
As of this morning, Voyager 1, the more distant craft, is 16 hours 46 minutes and 28 seconds light-travel time from Earth, corresponding to 121.479 AU. We're used to thinking of today's spacecraft as being far more complex than those of previous decades, but bear in mind that the two Voyagers each contain some 65,000 individual parts, their continued functioning a testament to the skill of the scientists and engineers who designed them. What will eventually silence them is a lack of power as their radioisotope thermoelectric generators lose their punch.
Looking forward, the ultraviolet spectrometer is expected to function until mid-2013, when it will be turned off to save power. But as long as the spacecraft are still operational, the cosmic ray subsystem, the low-energy charge particle instrument, magnetometer, plasma subsystem, plasma wave subsystem and planetary radio astronomy instrument should continue to operate. We've got years of data return ahead and can hope for a window between the crossing into interstellar space and the loss of power around 2020 in which to see what surprises Voyager may yet spring about the environment future interstellar craft will have to move through.