Centauri Dreams regular Al Jackson responded to yesterday's post about Neil Armstrong with reminiscences of the Apollo program, but because the first of these ran as a comment to the story, I was afraid a lot of readers wouldn't see it — we have far more subscribers through RSS than any other medium, and many of them do not see the comments. When Al submitted a second comment, I decided to merge them into a single post here. The author of numerous scientific papers and a widely known figure in the interstellar community, Al saw the Apollo program up close as astronaut trainer on the Lunar Module Simulator. Here he talks about Armstrong and Aldrin and the antics of the crew that followed Apollo 11.
by A. A. Jackson
I spent almost 4 years in the presence of Neil Armstrong and Buzz Aldrin. I came to the Manned Spacecraft Center (MSC) in 1966, where I was placed as a crew training instructor. I had degrees in math and physics at that time. Seems engineers were pressed into real engineering work or had been siphoned off into the DOD. Spaceflight attracted a lot of physicists who could be put to work on all kinds of stuff.
It's funny, I met Buzz first, I think as early as 1966. At MSC in those days I used to be in Bldg. 4 (my office) or Bldg. 5 (the simulation facility) in the evenings. Sometimes we worked a lot of second shift and I was unmarried at the time with a lot time on my hands. Anyway Buzz would come to Bldg. 5 to practice in a 'part task' trainer doing manual rendezvous , something he had pioneered. So I kind of got to know Buzz, but I can't remember much but small talk and later talk about the Abort Guidance System which was my subsystem.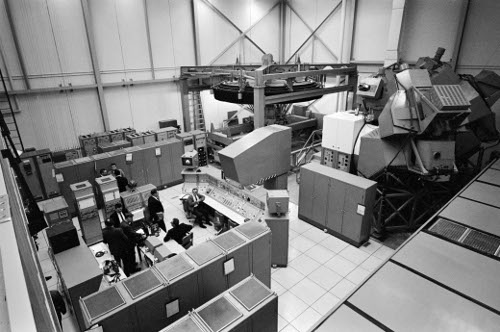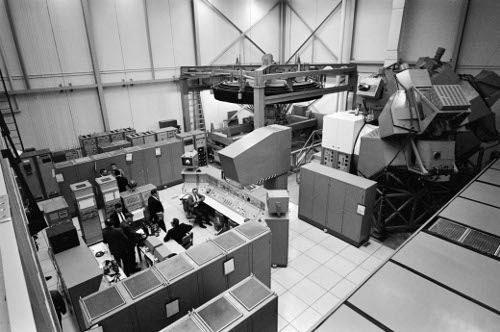 Image: Al Jackson (facing the camera at the main console of the Lunar Module Simulator) performing a checkout of LMS systems with his colleagues. Credit: A. A. Jackson.
When the Lunar Module Simulator (LMS) got into operation I started seeing Neil, but never talked to him much. Of all the Apollo crews Neil and Buzz were the most quiet. I remember the time when we had them in the cockpit from about 8am to nearly noon and they had not said anything for like 3 hours, someone wondered if we ought to go up and check if they were all right! I do remember Neil from the trips to MIT and TRW, to go to briefings on the Primary Guidance and Navigation and the Abort Guidance System.
I had seen Buzz do a little 'chalk talking' about technical stuff, but on the TRW trip Neil got up and gave a short seminar about rendezvous in orbit, some math stuff and all. He really knew his stuff. I remember being kind of surprised because I knew about Buzz's doctorate in astronautics, but did not know Neil knew that much engineering physics. I do remember Neil coming to the LMS the morning after the Lunar Landing Training Vehicle crash, I think the backup crew were there, and them asking him how he felt and he said "O I'm just a little sore." Actually he had bitten his tongue badly.
The Apollo 11 crew were the backup crew for Apollo 8, except for Fred Haise — that crew too could have been first on the moon. I puzzle these days whether Deke Slayton and higher ups arranged that it would be Neil and Buzz or not. All the astronauts I worked with were very unusual and able men… but Neil and Buzz had more than the Right Stuff, they were kind of magicians of confidence. It would be years before the astronaut corps had anyone quite like them.
You know working Apollo, nearly 24 – 7 for five years, in those days we had our heads down in the trenches, so it is strange to think back, a lot of odd things and lore escaped my attention. I was never a diary keeper, but wish I had been. I do remember how seat-of-the-pants everything was. Everything became much more formalized in the Shuttle Era and I was glad I did not stay in crew training for all but 5 years of my tenure at JSC.
It was the Apollo 12 crew who were the most fun. Pete Conrad was the most free spirited man I ever met. He bubbled with enthusiasm and humor, a thinking man's Evel Knievel. He was an ace pilot who kept us in stitches all the time. Conrad and Bean spent a lot of time in the LMS (I think Neil and Buzz spent the most) and we instructors really got tired of wearing our headsets , so when crews were in the LMS we would turn on the speakers we had on the console since the crew spent most of their time talking between themselves. When Conrad was in the cockpit we had to turn the speakers off, since we would unexpectedly have visitors come by.
The reason why: Conrad, an old Navy man, could string together some of the most creative blue language you would ever want to hear. The main guidance computer aboard both the Command Module and Lunar Module was called the Primary Guidance, Navigation and Control System (PGNCS), but the crews called it the PINGS. Conrad never called it that. I can't repeat what he called it, but he never, in the simulator called it that. The instructors remembered the trouble Stafford and Cernan caused on Apollo 10 with their language, and we thought lord! Conrad is gonna make even Walter Cronkite explode in an oily cloud! Yet on Apollo 12 he never slipped once, that's how bright a man he was.
A month or two before Apollo 11 Conrad and Bean were in the cockpit of the LMS and John Young was taking a turn at being the pilot in the CMS (Command Module Simulator). We were running an integrated sim. Young had learned that the CM would be named Columbia and the LM Eagle. Conrad being his usual individualistic self said that must have pleased Headquarters. (Of course Mission Control needed those names when the two vehicles were apart for com reasons).
So Conrad could not resist. He told Bean and Young right then and there that they were going to name the CM and LM two names that I also can't repeat. Bean and Young had a ball the rest of the sim giving those call signs, but that only lasted one day. Conrad, as you might suspect, never used the language in an insulting way or even to curse something — he was a very friendly and funny man. But it's so second nature in the military to use language like that, and those Navy men, well, they never said "pardon my French!" Later the three Navy men (Conrad, Bean and Gordon) gave their spacecraft proper Navy names! Remember them?