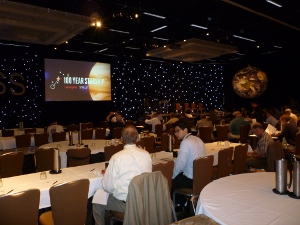 While I didn't see too many technical glitches at the 100 Year Starship Symposium in Houston, I ran into plenty of them in my own attempts to cover the event. The banquet hall where the opening ceremonies were held — and where the plenary sessions occurred each day — was impervious to the hotel's WiFi, so that I was unable to use Twitter. Friday's technical sessions in the conference rooms went fine, and I managed to send out a steady stream of tweets from the 'Time and Distance Solutions' track. But halfway through the Saturday sessions, Twitter itself went down. I tried all afternoon to get on, but though my Net connection was strong, Twitter wouldn't come up.
Image: Early arrivals setting up at the opening plenary session for the 100 Year Starship Symposium. Everything in order but the WiFi.
My experience with US Airways was about the same. The two flights out to Houston were uneventful, but coming back I was on an aircraft that reached new levels of passenger compression. With my knees hard up against the seat in front of me and that seat tilted back to maximum extent into my face, I could only close my eyes and pretend I was someplace else. We've all gone through things like this on packed flights, but I was reminded again why I have my 1000-mile rule. If a trip is anything less than 1000 miles, I'm going by rail or car. Period.
The Saturday science sessions were top-notch (congratulations to track chairman Eric Davis for his excellent work throughout the conference). Joe Ritter (University of Hawaii) gave an eye-opening talk about metamaterials, which he believes can reduce the cost of telescope fabrication by a factor of 100. This is heartening given the need to deploy big mirrors in space to look for and analyze exoplanet atmospheres. Joe's team is looking at mirrors with what he describes as 'photonic muscle,' material that minimizes ambient light and can respond actively to conditions. Think of today's adaptive optics extended in entirely new directions and available in ultralight models. A Hubble size mirror using some of these materials would weigh just 1 pound.
If you're thinking not just of ground- or space-based telescopes but of starships, Joe's huge, lightweight mirrors could be the basis of communication systems. For that matter, metamaterials like these can become involved in power generation and thermal regulation. There are even solar sail possibilities. In many ways the mission architectures becoming available to us will depend upon the advances in materials technology that this kind of work represents.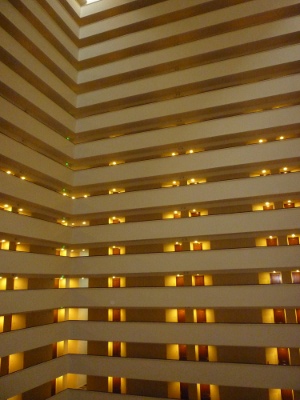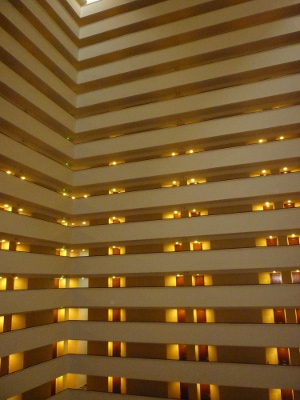 Vince Teofilo (Energy Innovations) ran through a conceptual design for a starship ark that he has been working on for the Space Colony Earth project, which involves repositories on Earth, the Moon and a starship that are seen as ways of preserving digital data and human DNA information. What Space Colony Earth has in mind is guarding against mass extinctions of the kind that felled the dinosaurs. A robotic long-haul starship of the kind Vince described would target a star with an Earth-like planet and would include experiments to be run en-route to provide data for future, faster interstellar missions. Among the propulsion options are an inertial electrostatic confinement space thruster developed by George Miley (University of Illinois at Urbana–Champaign), though Vince examined a range of alternatives.
Image: The view from outside my 19th floor room at the Hyatt Regency. An MD friend of mine, back in the days when this kind of hotel design was just coming in, looked up at such a scene at a conference and exclaimed "This is Babylon!" Well not quite, but the Hyatt was a good venue.
Icarus Interstellar was all over the science sessions, and the two I attended on Saturday covered recent work involving what the team is learning about the original Daedalus design. Robert Freeland (Podtrac), discussing a paper he did in conjunction with science fiction author Stephen Baxter, noted that the Daedalus team's calculations had largely been validated, though some aspects were in need of a tune-up. Remember that Daedalus came out of the 1970s, its team working in loose association using slide rules and pencils rather than computers. Freeland described an early Icarus iteration that would reduce payload to 50 tons from Daedalus' 450 thanks to advances in miniaturization, with an additional set of fuel tanks for each stage and full deceleration into the Alpha Centauri system. Mission time: just under 100 years.
You would think that an Alpha Centauri probe might swing by Proxima Centauri in some way on its way to Centauri A and B, but the scenario turns out to be surprisingly difficult to manage given the speeds involved on the way to the ultimate destination, as Freeland described. Splitting off a flyby probe targeting Proxima after the acceleration of the main probe is perhaps a possibility, but the primary probe still decelerates into the Centauri AB system, with the latter probe dividing into separate probes for the exploration of each star's (assumed) planetary system.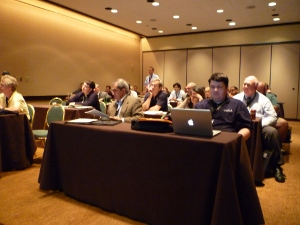 Still up in the air are issues like inertial confinement fusion and whether it will become the final choice of the Icarus design team. The continuing work at the National Ignition Facility has shown how tricky it is to compress a fuel pellet with lasers symmetrically. A final, major question: How do you do a re-start if the system shuts down? The Daedalus Final Report did not address the problem, and the Icarus team will explore this along with the question of mis-fires and how they could damage the reaction chamber.
Image: Hard at work in the 'Time and Distance Solutions' track.
Pat Galea, who gave three papers on Icarus topics, presented his third in place of author Adam Crowl, who could not be in Houston. Crowl was looking at efficient braking mechanisms for an interstellar probe entering its destination system, wondering about the feasibility of magnetic sail braking in which an artificial magnetosphere interacts with the interstellar medium. The magnetosphere itself is created with a huge ring of superconducting wire attached to the vehicle. Magsails turn out to help reduce overall system mass significantly when compared to other methods in a Daedalus-class vehicle.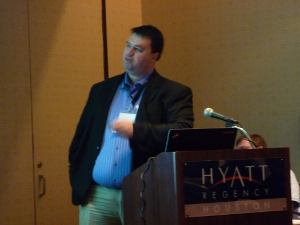 Finally, Rob Adams (MSFC) discussed the Decade Module Two (DM2) device his team is reassembling after its donation to the University of Alabama at Huntsville. Located at the UAH Aerophysics Laboratory at nearby Redstone Arsenal, the device was originally developed to model the effects of thermonuclear explosions, but can be productively put to work in a variety of fusion experiments ranging from magnetic nozzle tests to the simulation of a solar mass ejection. In a so-called Z-pinch, current applied to plasma by a large bank of capacitors creates a magnetic field that pinches the plasma into a small cylinder to reach fusion conditions. See Z-Pinch: Firing Up Fusion in Huntsville for more.
Image: Rob Adams describing the DM2 and its potential.
Can plasma explosions generated by the Z-pinch be directed into a flow of thrust of the kind that would drive a spacecraft? Fusion-pulsed propulsion may one day be practical, but it will take experiments with equipment like the DM2 to help us find out. All this work is obviously in the early stages of development and it won't be until the spring of next year that high-power testing could begin, assuming the assembly continues to go well and funding is forthcoming. Adams noted that the DM2 facility will also be made available to outside experimenters.