Yesterday's discussion about Man Will Conquer Space Soon!, the landmark series in Collier's that so elegantly defined the 1950s view of space travel, has me in a retrospective mood. The Collier's series was highly visible, and those old enough to have seen it tend to remember its concepts whether or not they're in an aerospace-related profession today. But a few years later a TV show called "Men Into Space" turned up on CBS, fighting for audience share and generally out-publicised by the network's "Twilight Zone" offering. It would run only a single season and end in September of 1960, months before Yuri Gagarin's daring ride in a Vostok.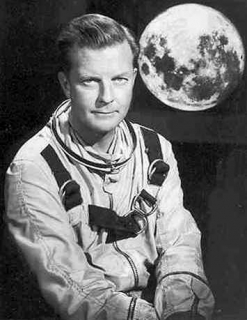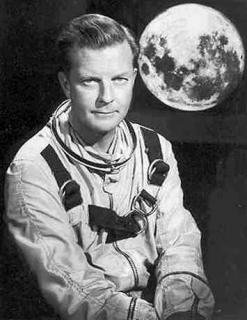 But "Men Into Space" sticks with me for a reason. Its 38 episodes followed Col. Edward McCauley (played by William Lundigan) through a variety of space situations, using him as a viewpoint character while the astronauts he worked with dealt with breakthroughs and problems. In that sense there was a certain similarity to what would become the Mercury program — we can assume this is exactly what the producers had in mind — but in its relatively realistic view of the dangers of these missions, it also harked back to the era of the rocket plane, when test pilots flew the X-15 and its X-series predecessors to new speed and altitude records.
Image: William Lundigan, star of "Men Into Space," who portrayed a seasoned astronaut guiding an often-changing cast through the dangers of manned spaceflight. Credit: Ziv Television Productions.
It's that dual emphasis that makes this series interesting. Back in 2003 when I was researching Centauri Dreams in Cleveland, I was headed out to lunch with Marc Millis and Geoff Landis. This was not long after the Columbia disaster and the idea of risk — and its ability to paralyze the space program — was very much in the air. I quoted Landis on this in the book:
"If a test pilot crashes at Edwards Air Force Base…they name a street after him, and the next day someone else flies another mission to see what went wrong. With space, things are different. Every mission has to be a success, we can tolerate no casualties. It may be a cultural thing. Maybe we've grown too afraid of risks."
My thought was that it's not the people in the machines who fear the risks but the culture that sends them, and in that I agreed with Landis. But these retrospective thoughts about space in the media have me wondering just why — and when — the risk paradigm changed. If you read Tom Wolfe's The Right Stuff, you'll recall the mindset that Wolfe identified at Edwards, where Chuck Yeager cracked the sound barrier in the X-1 and Scott Crossfield pushed the X-15 to every limit in the book (Crossfield is famous for saying that the X-15 was one of the few aircraft that caused grown men to cry when it was summarily retired). Wolfe is worth quoting on the idea of risk and how it looked in the late 1950s, when "Men Into Space" was made.
As to just what this ineffable quality was…well, it obviously involved bravery. But it was not bravery in the simple sense of being willing to risk your life. The idea seemed to be that any fool could do that, if that was all that was required, just as any fool could throw away his life in the process. No, the idea here…seemed to be that a man should have the ability to go up in a hurtling piece of machinery and put his hide on the line and then have the moxie, the reflexes, the experience, the coolness, to pull it back in the last yawning moment — and then to go up again the next day, and the next day, and every next day, even if the series should prove infinite — and, ultimately, in its best expression, do so in a cause that means something to thousands, to a people, a nation, to humanity, to God. Nor was there a test to show whether or not a pilot had this righteous quality. There was, instead, a seemingly infinite series of tests…
"Men Into Space," in a post-Sputnik America that was about to go crazy with the idea of going to the Moon, pushed its astronauts into a variety of Moon landings, space station scenarios, the building of a Moon base and two different attempts to reach Mars. The two Mars missions failed and they were not alone, for this was a show where astronauts occasionally died. Things went wrong and, unlike Neil Armstrong and David Scott's dangerous Gemini 8 flight, which could easily have proven fatal, many of the "Men Into Space" missions lost their crews. Technical glitches were common and astronauts kept going back into space in spite of all this.
I'm an old movie buff and I particularly enjoy the depiction of aviation in movies of the 1930s and 1940s. Recently I was watching Pat O'Brien and Humphrey Bogart in "China Clipper" (1936), in which a turbo-charged Bogart pushes O'Brien's new clipper design to the limit, flying through an advancing squall line to demonstrate that the design had what it took to survive the Pacific. Pilots died aplenty in the early days of aviation and it was considered part of the price for learning how to build better aircraft, an approach that fed directly into the culture Wolfe describes at Edwards. It's an attitude that feeds countless aviation films of this era.
Something happened to our cultural risk paradigm between the late 1950s and the end of Apollo, something that was certainly with us when we lost our two Space Shuttles, and I'm wondering just what it was. My guess is that the rocket-plane pilots of Edwards Air Force Base were never in the public eye to the extent that the Mercury 7 were, and that our decision to mount a national effort to reach the Moon in the context of the Cold War elevated our crews into the kind of public figures whose loss would be unthinkable. The risks of these flights were palpable, but the risk paradigm — what we all felt about those flights and those crews — seemed to be changing.
I suspect that if we do enter into a time of commercial space development, with companies like Planetary Resources actually mining asteroids with human crews launched by SpaceX or other companies, the paradigm will begin to shift again. Sheer numbers will eventually force it to, for a large enough population working on a regular basis in space is a different thing than a single crew facing long odds on a dangerous mission. The show that prompted these musings, "Men Into Space," doesn't seem to be available in streaming mode, but I do see various DVDs out there. Like the Collier's series, it's an interesting illustration of how our thinking on space has changed.