One of the challenges of running a site like Centauri Dreams is that deep space news accumulates so swiftly that it's easy to focus on one issue while another timely story slips away. I don't want to get too far past the European Planetary Science Congress, which ended in Madrid on September 28, without mentioning the interesting discussion of Titan that took place there. A new proposal for landing on the moon and sampling Ligeia Mare, its largest lake, was put forward to join previous Titan exploration proposals, all of them challenging yet doable.
Titan Lake In-situ Sampling Propelled Explorer (TALISE) is the brainchild of SENER, a private engineering and technology group that has provided components and subsystems for a wide variety of space missions. The idea is to land a probe in the middle of Ligeia Mare, near Titan's north pole, and embark on a six- to twelve-month cruise to the coast, gathering data all the way. TALISE team member Igone Urdampilleta explains what makes TALISE different:
"The main innovation in TALISE is the propulsion system. This allows the probe to move, under control, from the landing site in the lake, to the closest shore. The displacement capability would achieve the obtaining of liquid and solid samples from several scientific interesting locations on Titan's surface such as the landing place, along the route towards the shore and finally at the shoreline."
The image below shows one TALISE concept, using paddle wheels on either side of the probe, but SENER's studies involve several propulsion methods including screws and wheels. Working in partnership with the Centro de Astrobiología (Madrid), SENER's work is considered a Phase 0 Study which now moves into a feasibility study that will develop a preliminary mission architecture. What all that boils down to is that this is an extremely preliminary concept that is a long way from becoming an actual proposal in response to an ESA science mission call.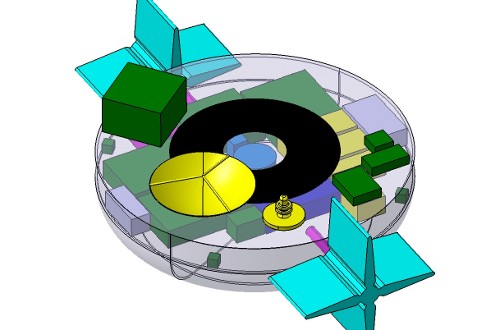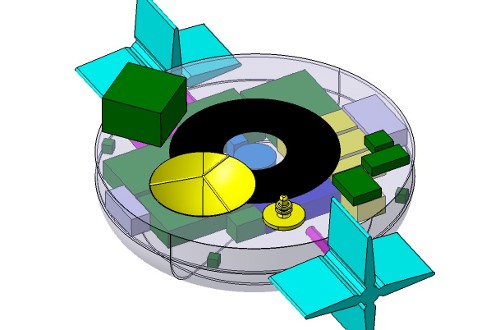 Nonetheless, TALISE is an indication of Titan's continuing hold on the imagination, with its lakes and rivers of liquid hydrocarbons and its thick atmosphere more suggestive of a planet than a moon. This boat concept joins a Johns Hopkins Applied Physics Laboratory design called Titan Mare Explorer (TiME) as another potential craft on Ligeia Mare, offering us an in situ look at a lake that may be at least tens of meters deep, one whose shoreline changes over time in apparent response to seasonal effects. We looked at Titan Mare Explorer last April in Splashdown on Titan.
Nor should we forget AVIATR (Aerial Vehicle for In-situ and Airborne Titan Reconnaissance), a 120 kg airplane that takes advantage of Titan's thick atmosphere (with atmospheric pressure one and a half times greater than Earth's) to soar the skies of the moon for up to a year, backed by efficient Advanced Stirling Radioisotope Generator (ASRG) technology. Aerial methods like AVIATR and various balloon designs have the advantage of being able to roam widely over the surface but a long-term Titan strategy will incorporate both landers and aerial craft. See AVIATR: Roaming Titan's Skies and A Closer Look at the Titan Airplane for more on the latter designs.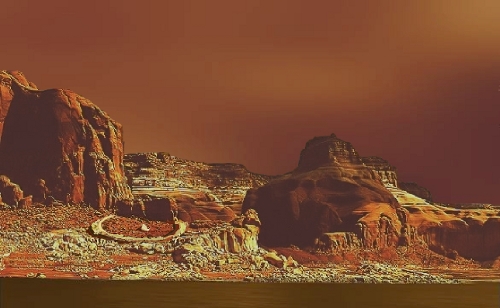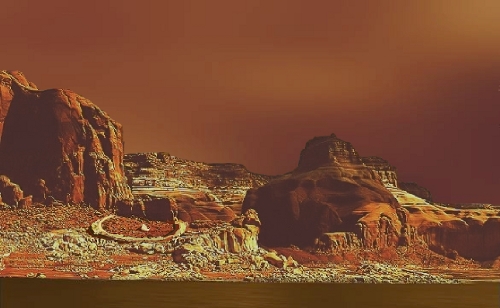 Image: An artist's impression of Titan's surface near the shore of one of its lakes, the kind of view we might eventually get from one of the boat/lander missions. Credit: SENER.
You'll recall that the Huygens lander was designed to float for a time if it landed on a Titanian sea, an outcome mission planners considered a distinct possibility. The interaction between liquid methane and the moon's weather patterns would be a major area of investigation for any floating probe, as would the complex organic chemistry that makes Titan a unique laboratory for the study of how life develops. Moreover, the sheer drama of operating a craft in an alien lake — or like AVIATR riding the currents of Titan's thick atmosphere — could enliven public interest, providing a needed boost to deep space planners faced with chronic funding shortfalls.