Patrick Moore, the legendary figure of British astronomy who died recently at his home in West Sussex, was deeply familiar with Ptolemy. The latter, a 2nd Century AD mathematician and astronomer, was the author of the Almagest, an astronomical treatise that presented the universe as a set of nested spheres and assumed a geocentric cosmos. Moore's comprehensive knowledge of astronomy's history would naturally have included the Almagest and probably Ptolemy's astrological musings as well, but a different Ptolemy was a figure even more important to him, a cat of that name who was with him when he died. The author of 2012's Miaow!: Cats Really are Nicer Than People! never hid his love for his feline friends.
I admire a man who, when faced with the reality that further treatments are unproductive, simply announces that he wants to go home. And go home he did, to the town of Selsey and the house called Farthings, where he died among family and friends. Moore was a man of fierce views and simple integrity whose generosity was uncommon. In a career in which he hosted the BBC show 'The Sky at Night' for an unprecedented 55 years, he inspired countless young people to explore the heavens. Brian May, the guitarist who published a book on astronomy with Moore, noted the latter's devotion to his audience in a remembrance published in The Guardian.
In his private life Patrick was astoundingly giving. His dedication to young aspiring astronomers was legendary. He replied to every letter, responded to questions, helped students with gifts of equipment and the most precious gift of all – his time. He personally tutored some he thought particularly promising, and sponsored others through higher education; he gave away any income he made to the point where he had no security himself except that which his friends supplied.
'The Sky at Night' first appeared in 1957, and it is a remarkable fact that in the years since, Moore missed only a single episode, felled by a salmonella-laden egg in 2004. He could have gone to Cambridge and pursued an academic career, but when World War II came he lied about his age and joined Bomber Command, where he became a navigator. He called himself a 'reluctant bachelor,' and said that he felt the same about his fiancée Lorna in 2012 as he did in 1940, not long before she was killed by a German bomb. Love ran deep. He would never marry but would go on to parlay his extensive learning and air of eccentricity into the work of a lifetime.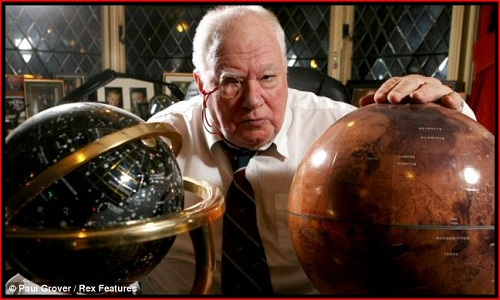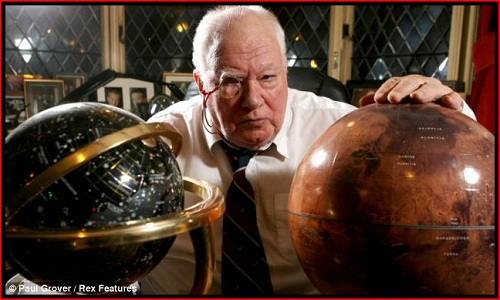 The gifted amateur used a 12-inch reflector, specializing in lunar observations of a quality so high that he was chosen to be the first outside the Soviet bloc to see the results of the Luna 3 probe, showing images from the craft on the air. Moore was dealing with live TV in those days, and not all his plans worked out, as when technical problems compromised his coverage of Luna 4 transmissions, and at times his attempts to get a live telescopic view of a celestial object were ruined by cloud cover. None of this mattered and some of the glitches, such as his swallowing a fly that buzzed into his mouth, only added to the eccentric charm and reputation of the presenter. Many will remember Moore's on-air work during the Apollo missions, which extended to later reporting on both Pioneer and Voyager. His Wikipedia article has more.
Much is being said in remembrance of Moore all over the Internet — see this obituary in The Telegraph, for example, in addition to the BBC article by Brian May that I linked to above. Moore the television presenter is remembered just as fondly as Moore the author. He began his work with Guide to the Moon in 1953 and continued for over 60 titles, much of the time working on the same 1908 Woodstock typewriter.
This morning I've been thumbing through the pages of his 1984 book Travellers in Space and Time, an illustrated journey through the cosmos that takes us as far as Andromeda, but I'm also thinking of titles that were older still, like The Picture History of Astronomy (1964) and Watchers of the Stars (1974). Books like these and Moore's practical tomes on amateur astronomy brought celestial matters down to Earth, igniting enthusiasm and stoking the fires of young careers. This grand, ebullient man with the trademark monocle was indispensable, impossible to replace. "There will never be another Patrick Moore. But we were lucky enough to get one," wrote May in his tribute. Do note that May has also set up a Patrick Moore website where members of the public he spoke to with such passion can leave their remembrances.